Exceptional Vetted, Trained & Certified Security Guards

Armed Security Guards Flemington NJ
Unarmed Security Guards Flemington NJ
Your security depends upon having a well trained security guard who is vigilant, reliable, able to solve problems, and equipped with the technology and tools required to maintain your peace of mind. At Echelon Protection & Surveillance, we can develop a customized security plan that meets your needs using certified armed and unarmed Flemington security guards.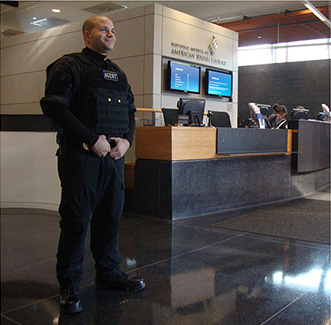 We offer flexible, cost effective security service solutions using both Flemington armed security guards and/or Flemington unarmed security guards
All of our security guards are well-trained and highly visible problem solvers that will work in any industry
You can try our security service for a day and experience first-hand our professionalism and overall value
In today's uncertain world, a professional security guard must be more than a just a person in a uniform - They must also ensure the protection of your property and personnel. Our Flemington armed and security guards, and Flemington unarmed security guards, must meet stringent qualifications to be a part of our team.
We also ensure that our security guards are equipped with the equipment they need to realize your unique security protocols.
Flemington Unarmed Security Guards
From education facilities to personal protection, there are a number of situations where Flemington unarmed security guards are required. We offer quick, affordable, and reliable solutions for any situation requiring highly-trained Flemington unarmed security guards.
Flemington Armed Security Guards
The volatile nature of our modern world sometimes demands Flemington armed security guards to ensure the safety and protection of both people and property. Our Flemington armed security guards are trained by law enforcement experts, which makes them ideally suited for situations requiring immediate response.
We can customize a security solution for you All of our security guards hold Clearances and Certifications that include:
Act235 Armed
CPR/First Aid
AED
Evacuation Coordination
Management of Aggressive Behavior
Package Inspection
Magnetometers
Contact Echelon Protection & Surveillance and let us help you develop a security plan focused on meeting your specific needs with both unarmed and armed Flemington security guards you can implicitly trust.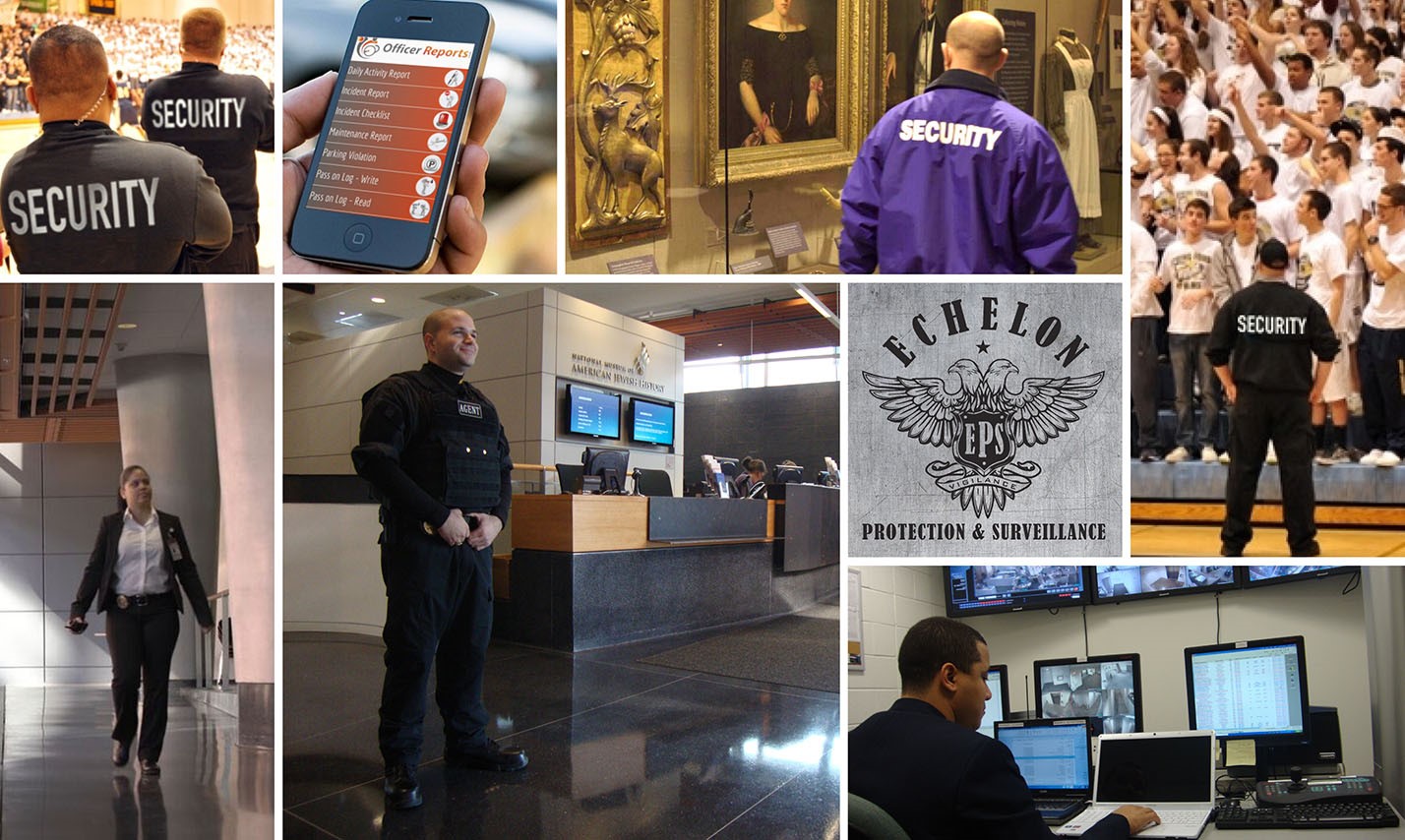 Flemington Tidbits
The attractions in Flemington, New jersey are diverse and numerous. They include riveting railroads, the trial of the century during the 1930's, Victorian homes, and Outlet shopping.
On route 495, which is also route 202 South, there is the largest miniature railroad collection in the world. This railroad has over 100 trains that navigate some eight miles of railroad track. The exhibit includes bridges, cities mountains and runs around for a mile. A replica steam train known as the Raritan River Railway offers a longer excursion. There is also the scenic Western and Black River Railroad, which runs between Ringoes and Flemington. The Flemington station is conveniently located next to the Liberty Village Premium Outlets, that offers some 40 different outlet stores that range from Timberland to J. Crew, and Coach to children's clothes to cookware.
Flemington is a warning story for small historic communities all across the U.S. The city is considered to be the second largest historic district in New Jersey, with approximately 80 percent of the structures considered historic. The collection of structures from different era's is especially striking. The Historic Preservation Commission of Flemington considers these structures architectural gems from every major historical period.
However, there is no legal bearing to the designation of a National Historic District. There is no guarantee of the preservation or the survival of historic architecture. Much the same as other cities, Flemington is currently risking the loss of its most distinguished structors.
Originally, Flemington was economically fueled by activity in agricultural, especially on the manufacture of glass and fruit crops. Because it took so long to get there, businessmen would stay overnight. This created creating business for the owners of the hotel. However, much the same as several other small manufacturing centers in the nation, the relocation and closing of industry resulted in the contraction of the historical town center, which helped to enable the development of the highway and suburbanization.
During the 1930's, and the 1940's Flemington was a tax haven and was the address for some 140 major corporations. Several of the buildings next to Main Street are being renovated, which will keep the historical elements intact and sometimes reveal the original details of the structure that have been lost. Also, next to Main Street new businesses have been established which has increased the foot traffic. However, currently Flemington is entering a new moment. The residents of the community want a complete revitalization.
Although it would appear that what has been learned during the last 50 years since the early preservation laws were passed haven't reached the community. Architectural and historical preservation can become a driver of the economy and an asset. This has proven to be true in communities such as Setauket on Long Island and Kingston in the Hudson Valley.
This strategic plan of 2014 was ambitious and comprehensive. Its purpose was to protect existing structures and neighborhoods and also amend existing zoning laws that would encourage arts and business, and convert Flemington into a regional destination. One of the assets of Flemington is historical preservation and the primary goals was to reopen the Union Hotel. This is considered to be one of last examples of a hotel in a small community in New Jersey and a beautiful building.
This brick structure has a slate mansard roof and a two-story wooden porch. In 1877, the southern half of the hotel was constructed on the location of a stagecoach stop that ran between Philadelphia and New York City. This part of the hotel replaced a three-story wooden hotel that had been there since 1814. This hotel featured gas lighting, indoor plumbing, heated rooms and was luxuriously appointed. In 1878, the second half of the hotel was constructed and there is a seam on the facade between the two sections.
The Union Hotel was constructed from virgin timber that was brought to the location by barge from the Upper Delaware River watershed. Two local artists produced some Great Depression-period murals. These local artists also produced the award-winning children's books titled The Jungle Book and Bambi. There is a wooden extension on the backside of the hotel.
Journalists reporting on the Lindbergh trial stayed in the hotel while the jury stayed in the roof of the hotel. Flemington was the headquarters of the worldwide media for a while during the trial. A restaurant operated on the ground floor for a while.
Currently the plans for development being considered would demolish the hotel. This plan is very ambitious and wants to draw a two or four-year college, and some 50,000-sq. ft. of retail space that would be anchored by local company named Flemington Furs, some 900 parking spaces, between 230 and 250 housing units, a medical facility, and a 103-room hotel.
Also, being demolished would be three other historical buildings on the same portion of Main Street that includes a large Italianate building, the Hunterdon County National Bank, a brick structure that was built during the 1880's, and, originally was a dry goods department store. Still remaining are the safety deposit vaults, in addition to many different original exterior details. Currently the Borough of Flemington is being sued in two separate cases that are related to the redevelopment project and a petition to save the Union Hotel has begun.