By: Stuart J. Visnov, Chief Executive Officer, Echelon Protection & Surveillance
Word count:  649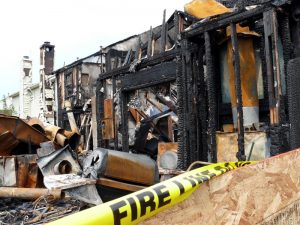 Imagine this: you receive a call late at night, learning that a fire has started at your business, leaving the structure in ruins. If you're like most business owners, you first thought will be for the safety of your employees and the people in nearby buildings. Next, you'll want to make sure that you have the necessary insurance documents to cover the costs of rebuilding.
Most business owners realize that they must have substantial accident insurance in the event of an unforeseen disaster. But often, they may not consider the steps that really need to be taken to protect them when the unthinkable happens. As a business owner or manager, you must consider what you would do if you experienced such a loss. Having insurance is obviously an important consideration, but so is knowing what to do to save time and money when a fire does occur.
Here are a few actions you can take in the moments following an unexpected loss due to fire:
Within 24 hours of a fire, you are legally required to contact a licensed contractor to repair damaged system and pull any required permits. You must also contact state or country licensed personnel to conduct an ongoing fire watch.
Hire a trained security officer to patrol the areas impacted. All fire and safety officers should be trained in fire prevention or be certified CFSI fire inspectors who understand the state law requirements as well as OSHA and NFPA safety standards.
Research shows that construction site crime costs more than $1 billion per year in the United States. Get a professional assessment to identify vulnerable areas of the property and to develop a strategy to keep the site safe from trespassers, thieves or vandals.
Secure your property. To avoid further loss due to theft, consider hiring a security company with the knowledge and manpower to ensure there is no further vandalism or material theft, which can create costly delays.
Assess the floor layout, review emergency shutdown procedures, repair any damaged fire protection systems, and make sure that all of your equipment meets the state law standards.
Consider adding additional security measures as you rebuild your property, such as surveillance tools or onsite guards who can offer 24 hour protection.
Install additional security measures such as perimeter fencing, access control, temporary surveillance cameras, exterior lighting, deterrent signage, and a strategic jobsite layout.
Keep accurate records of all fire watch reports to keep the fire marshal and the fire department informed.
For all of these services and more, Echelon Protection & Surveillance can meet with you immediately onsite to set you up for a successful transition from calamity to security. Along with the measures above, EPS will assist you with construction site security, starting with a strategic plan, tried and true safety measures, onsite protection, certified fire watch patrols, and daily logs complete with digital photos that identify areas of risk. A security account manager is also at your disposal, free of charge, so that you can receive regular status updates. As one final and important step, we work in tandem with local police to support our security measures, and further our goals of visible deterrence.
As a volunteer fire fighter for over 40 years and in my current role as the Fire Police Captain in Worchester Township, Montgomery County, I can assure you that Echelon is prepared to handle any crisis or hazard that develops.  Consider contacting a representative today, at no cost to you, to see what you can do to keep your business safe, including measures that prevent fire damage, such as better alarm systems, immediate notification of illegal entry, and a quick plan of action to put into practice should a disaster occur.