Security Guards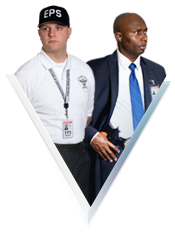 Echelon's professional armed and unarmed security guards are trained and certified to deter and prevent unlawful activity in virtually every industry and situation. When you choose Echelon as your security partner you can be confident in the professionalism, quality and experience of each guard. All armed and unarmed security guards are subject to comprehensive State and Federal background checks, an extensive interview process and must be a U.S. citizenship or permanent resident.
Unarmed Security Guards
All Echelon security guards are ready to protect your people or property in your choice of highly visible uniforms, business attire or plain clothes according to your specific security challenge. Standard issue equipment may include: ID badge, radio, flashlight and cell phone. Depending on your industry or situation, security guards may be responsible for operating equipment such as surveillance cameras, building alarms, access control, body scanners or safety equipment. Echelon security guards are also prepared and certified to assist in case of crisis, emergency or hazard. In addition, Echelon's Officer Reporting & Tracking technology empowers guards to record and document their duties, while allowing clients to review all reports and documentation online 24/7.
Armed Security Guards
Echelon armed security guards are certified to carry fire arms while on duty according to state regulations. All security guards must also observe a strict corporate policy of annual training and recertification. Echelon also maintains a specially trained armed personal protection team to protect VIPs, executives, dignitaries and celebrities. Depending on the risk or threat, your situation may require more than one armed security guard to effectively manage your personal protection. Echelon's personal protection armed agents are specially trained to Federal Standards by a Certified, Federal Training Officer.
Rates
Armed and unarmed security guards rates are quoted per guard hour, based on competitive security industry fee structures. We then adjust the rate based on factors such as industry, risk, response time and requested duties. Once we fully understand your situation, we work as your true security partner to determine the most effective security solution for your peace of mind.