Bodyguard
Personal & VIP Protection
• Our VIP security experts offer reliable protection for executives, celebrities, athletes, and anyone accustomed to being in the spotlight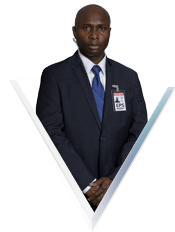 • Echelon Protection & Surveillance is far more than a bodyguard service – we offer comprehensive VIP security and executive protection
• Effective VIP protection depends upon detailed advanced planning and the use of highly-trained bodyguards with certified training and extensive experience
• Our certified bodyguards are highly-trained problem solvers, and include bilingual bodyguards, veteran law enforcement, military, and high-level government security specialists
• We will work with you to provide close personal protection and develop an executive security plan incorporating bodyguards, surveillance, advanced planning, and coordination with local authorities
Find Peace of Mind with a Professional Bodyguard from Echelon
At any moment your personal safety can be affected – directly or indirectly. While a bodyguard may act as a deterrent in many potentially harmful situations, only proper planning, training, and dedication can offer protection in the face of a determined threat or unforeseen calamity.
As a VIP, incidents that could cause you harm or injury can occur at any moment. Depending on your profession or lifestyle, everyday situations can immediately turn life-threatening, whether the threat is planned or opportunistic. For this reason, it's vital to work with an experienced protection group who can provide a professional bodyguard that can offer you peace of mind to go about your business with confidence.
Effective VIP Security Starts with Detailed Planning
Quality protection from a team of bodyguards and security professionals should be seldom seen but always present. This is only accomplished via in-depth advanced planning that assesses risk based on an analysis of transportation routes and itinerary, while still managing to remain adaptable.
The needs of the VIP must also be a primary consideration, and most executives and celebrities prefer to work with bodyguards that can "blend in" while still providing unwavering protection. The bodyguard should also be capable of integrating hospitality into their service, providing friendly customer service to the client – even those who need extra care and consideration.
Echelon's Bodyguards are Certified VIP Security Professionals.
The qualifications of your bodyguards matter. At Echelon Protection & Surveillance, we deploy specially trained and certified VIP security professionals that include persons with veteran law enforcement, government security, bilingual and military experience to ensure your personal protection. These backgrounds provide them with the knowledge and real-world experience needed to handle your protection needs, in any situation and within any industry.
Whether you need short or long term personal protection, from one bodyguard or a team of agents working in tandem, we will customize a security plan that ensures your safety by minimizing your risk and liability while you go about your business.
Our Highly-Trained Bodyguards Must Meet Stringent Requirements
Every bodyguard hired by Echelon must meet exacting requirements to ensure they are of the highest caliber. You can rely on the fact that your bodyguard was fully vetted and certified before being considered for our team. They are then trained specifically for Echelon by personal protection experts to confront challenges, mitigate risks, anticipate threats, de-escalate potentially harmful situations, and solve any problems that may arise discreetly and appropriately.
VIP security requires a unique skill-set, a clear mind, strategic planning, and an in-depth knowledge of the protocols needed to supply a proper response to problem situations. Our bodyguards must be capable of remaining professional in the most difficult situations, while still managing the needs of the VIP. They must also be able to make decisions as circumstances warrant, while still working within the parameters laid out in advance by the client, and detailed in pre-deployment meetings that outline what is expected of each bodyguard.
Our bodyguards are also required to maintain clearances and certifications that include:
• First Aid, AED and CPR
• State and Federal Criminal History Clearance
• Drug Testing
• Aggressive Behavior Management
• Package Inspection
• Act 235 Armed
Armed bodyguards are fully trained to handle weapons, and we will work with you to develop detailed security protocols that fit seamlessly with your lifestyle and the unique needs of your profession or industry.
We Supply A Team of VIP Security Professionals Working Together
The experts at Echelon Protection & Security will work directly with you to fully develop a comprehensive protection plan that anticipates potential issues and maximizes the safety of the VIP. Each bodyguard is a member of the team, and will be fully informed regarding their specific duties. We take special care to ensure that the bodyguard's mission is custom tailored to the level of risk associated with the client, and that each has the necessary training to do their job effectively.
VIP protection experts comprising a security team may include a driver, a close-protection bodyguard who acts as an escort to the VIP, and members of subordinate units that handle threat management. Additional bodyguard support may conduct background investigations of people that may interact with the client, and advance sweeps of areas into which the VIP is travelling. Each member of the professional VIP security team will be discreet, professional, diligent, and fully capable of handling unforeseen issues within the parameters laid out by the client.
Our comprehensive list of bodyguard and executive protection services include:
• Executive security and close protection
• Unarmed and armed bodyguards
• Bilingual bodyguards
• Advance threat assessment
• Static and mobile security plans
• Establishing travel routes
• Planning for contingencies
• Estate security and surveillance
• Comprehensive security consultation
• Escort protection services
• Highly visible bodyguard deterrents
• Egress and Ingress
Develop Your Bodyguard Service Plan with Help from Our Experts
We make it possible for you to fully customize a security package that specifically meets your personal VIP protection demands. This is especially appealing as your need for bodyguards changes due situation or unforeseen necessity. You can hire a bodyguard for a single day, or make them a part of your full-time executive protection team. Whatever your need, we will work with you to coordinate VIP security personnel who are qualified to handle your protection.
This flexibility is unique in the security industry, and it allows you to optimize your executive security budget depending on your personal preferences and circumstances. If you suddenly require more certified bodyguards due to an unscheduled event or sudden threat, we can meet your VIP security requirements with little notice, while working with you to develop updated security protocols.
This is especially helpful for professionals in need of flexible executive security, because you can develop the most cost-effective protection method possible by adjusting the number of bodyguards and the amount of time they are on duty.
In this way, Echelon Protection & surveillance becomes your security partner, capable of solving any issue by implementing customized protocols that align with your business demands.
We will work with all clients in need of personal protection, including:
• Executives
• Celebrities
• Athletes
• Corporate officers
• Lawyers
• Witnesses involved in court cases (and their families)
• Dignitaries
• Politicians