Off Duty Police Security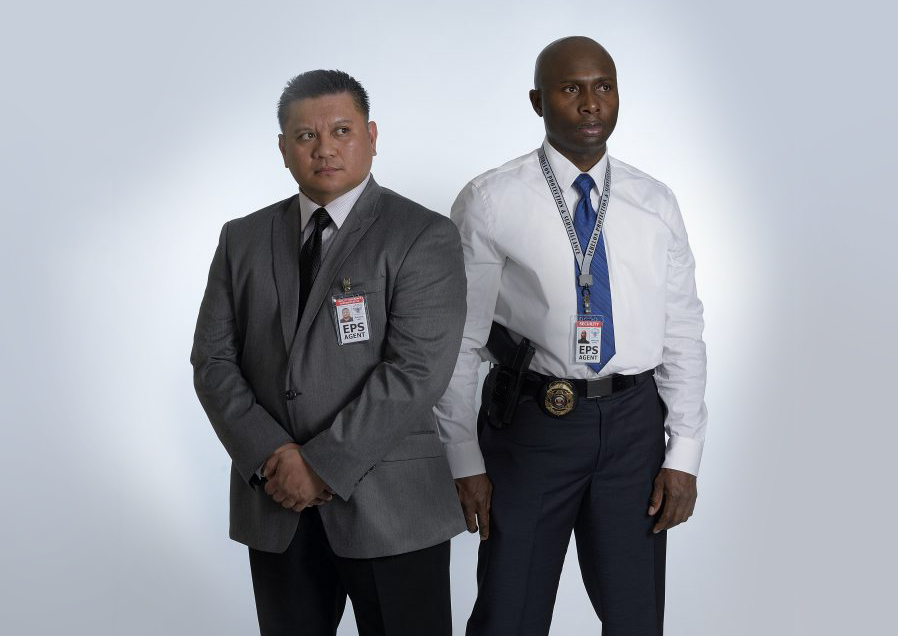 Echelon Protection & Surveillance is dedicated to serving clients hoping to hire an off duty police officer for their personal security and protection. If you're eager to work with highly trained security experts capable of anticipating danger, de-escalating volatile encounters, and responding to threats as they happen, contact us today.
High-profile individuals often hire newly retired state troopers when navigating dangerous urban environments like Philadelphia and Pittsburgh. Why? Because experience working within metropolitan environments is indisposable when protecting executives, celebrities, dignitaries, and other varieties of VIP. Echelon's experienced bodyguards are ready to ensure you're protected in any environment and any situation.
When you hire an off duty police officer from Echelon, you will be served by a fully trained State Trooper, Sheriff, or some other professional law enforcement agent. We only hire personal protection experts who are fully certified and trained to prevent unwanted and unlawful activity and deter criminal intent.
Echelon Protection & Surveillance was founded in 2001. For more than two decades, we have become one of the most trusted security specialists working in the tri-state area. At the core of our success are values that include responsiveness, professionalism, and an unwavering dedication to quality customer service.
All of Echelon's security specialists are guaranteed to possess the following critical credentials:
They must be a United States citizen or permanent resident
They will be fully vetted
They are required to pass rigorous State and Federal background checks
They must complete a comprehensive personal interview process
Echelon Protection & Surveillance is the personal protection and security guard provider for discerning individuals located in Pennsylvania, Delaware, and Maryland. To learn more call us today at (610) 831-0277 or visit us at www.epsagents.com
Why hire an off duty police officer? Qualifications and experience
Why are police officers often highly coveted by individuals who require quality personal protection? In short, law enforcement professionals like police officers are trained to deal with danger whenever it arises. They also possess real world experience dealing with threats and de-escalating potentially dangerous situations before they arise.
Did you know that the state of Pennsylvania requires police officers and other law enforcement officials to undergo rigorous training before they begin their career? As their career evolves, training and further certifications are also required. In this way, a professional law enforcement officer's training is never complete, because techniques and technology are always evolving.
Many of the security and protection experts we hire at Echelon Protection & Surveillance are retired Police Officers, Sheriffs, and State Troopers. This is why our bodyguards have such a broad array of certifications that place them at the top of the security industry. With decades of combined experience in the field where they were able to apply their practical training, there is little wonder why so many high-profile individuals turn to Echelon for their personal security needs.
In Pennsylvania, law enforcement officers including Police Officers, State Troopers, and Sheriffs are required to meet these basic qualifications:
United State citizen
18 years of age
Good mental and physical condition
Must pass background checks (Federal and State)
Police officers are also trained in the following essential disciplines:
Crime scene management
Weapons usage
Access and crowd control
Traffic control
Constitutional law
Witness questioning procedures
Many other important certifications are required to advance from a police officer to a Sheriff. Training is often what makes a law enforcement agent successful, especially when dealing with dangerous situations.
While Pennsylvania is a great place to live, it's also a place known for violent crime. Who are you going to choose to protect you, your assets, and your family?
Crime in Pennsylvania – an overview
Let's take a look at some sobering crime statistics for Pennsylvania. In 2020, there were more than 218,000 crimes in the state and nearly 40,000 of them were violent in nature. When you look at the numbers, it's easy to understand why so many VIPs hire newly retired state troopers for personal protection.
Did you know that residents of Pennsylvania have a 1 in 300 chance of becoming a victim of a violent crime? If you're a highly-recognizable individual, does it seem likely that your odds of being involved in a violent crime are even higher?
Indeed, threats are ubiquitous for anyone who has a high net worth or lives a life in the public eye. If you frequent urban environments like Philadelphia, the risks to your person are omnipresent.
Highly trained security specialists are trained to mitigate threats before they become active threats. Sheriffs, State Troopers, and Police Officers understand how to avoid dangerous situations and are equipped to handle dangerous encounters when they prove to be unavoidable.
If you're suddenly faced with a threat, who do you want protecting you and your assets? Police Officers know that the first line of defense from an active threat is to deter, anticipate, and de-escalate. The next line of defense is to manage aggressive individuals with every tool at their disposal.
Make no mistake, trained police officers offer a level of protection far higher than your run-of-the-mill nightclub bouncer who looks intimidating but lacks the training to offer superior protection. When a police officer faces a real threat, their training engages automatically. Remember that there are dangerous people out there who specifically target VIPs, executives, and high-profile people like you. What are you going to do about it?
Echelon's police officers receive additional training
When you work with a member of our personal protection team, you're hiring someone who is experienced, thoroughly vetted, and utterly reliable. When you hire a police officer from Echelon, they will be trained to anticipate threats, solve problems, mitigate risk, and confront any challenge that arises. Meanwhile, you're free to focus on your business and/or family.
You can choose from armed or unarmed personal security depending on your preference and level of risk. The professional you hire will always keep their cool and respond to any challenge. No matter who you hire, we guarantee that they will possess the following certifications and clearances:
First Aid, AED, and CPR
State & Federal Criminal History Clearance
Drug Testing
Aggressive Behavior Management
Act 235 Armed (Certified Armed Guards)
All of our armed guards must remain fully trained to handle weapons and maintain these skills according to state law to better serve our clients
Why select an off duty police officer from Echelon?
There is a good reason why so many executives, celebrities, VIPs, and dignitaries choose Echelon for their personal security requirements. Our track record is proven because we supply clients with a full suite of fully customizable modern security services. What sets Echelon apart from other security industry leaders?
With more than 20 years of experience, our elite security professionals offer unmatched industry know-how and decades of on-the-job experience. You will work with retired Sheriffs, State Troopers, Police Officers, military personnel, and other veteran law enforcement officials who are at the top of their game. They will respond appropriately to any situation regardless of the threat's nature, keeping you and yours secure and safe.
You get the service you need when you need it. Echelon serves your security needs 24/7/365, so if you need a last-minute bodyguard for an event or have any other security needs, we are always available.
The agent you hire will be certified and fully credentialed, capable of protecting your assets and minimizing your risk.
Every member of our personal security team is fully equipped with the training and technology required to perform at the highest level.
Echelon requires more from every member of our team. In fact, we have the highest vetting and hiring standard industry-wide. Echelon's personal security specialists have all required state and federal clearances, background checks, licenses, bonding, insurance, and many other certifications.
We are dedicated to becoming your trusted security partner by working directly with you to develop and implement effective security strategies designed to mitigate risk and liability.
Philadelphia crime statistics that underscore why you need personal protection in city environments
The City of Brotherly Love is a great place to live but often fails to live up to its moniker. Philadelphia has a higher violent crime rate than the national average and during 2020, homicides increased nationally about 30 percent. It is expected that Philadelphia will see somewhere around a 17 percent increase in homicides during 2021.
What do these statistics mean? It means that personal protection is essential if you spend time in sites like Philadelphia or Pittsburgh. The very nature of violent crime is that it's unpredictable. If you're a high-profile individual, it's vital to your safety that you have a qualified bodyguard protecting your interests.
The best protection is anticipating illegal or unwanted behavior before it manifests. The professionals protecting you must also be trained to deal with unpredictable threats in real world situations. This is why it's so important to work with qualified law enforcement agents like Police Officers. When it comes to your safety and the safety of those you care about, there is no substitute for experience when dealing with the threats that urban environments foster.
Contact Echelon today and get the protection you deserve
Are you looking for a security guard, professional bodyguard, or executive protection services? If so, contact the security experts at Echelon today so that we can work with you to develop a custom security strategy that fully protects you and your assets.
We quote prices for hiring newly retired state troopers and other security professionals on an hourly rate based upon well-documented security industry fee structures. Your quote may vary depending on risk, response time, and duties.
Our goal is to become your trusted personal security partner, providing you with the best possible security in any situation, so that you can enjoy peace of mind.