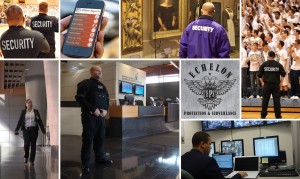 Effective security is significant to a successful business and therefore selecting the right security partner for your organization is a process that shouldn't be overlooked. The wrong choice can impact your safety, productivity and how your company is perceived, along with your bottom line. Although there are many security companies to choose from, it is important to find one that best fits your needs.
How do you know you're choosing the right security partner? Follow our guidelines below.
Vetted, Trained & Certified
All too often you will find security officers that have only been given basic training for their position, such as communication, observation and reporting. Instead, you should look for security officers that go beyond that with proven experience in the field and are certified to effectively take action to defend your life and property. A highly vetted, trained and certified officer will make quicker, more intelligent decisions in dangerous, stressful and unpredictable situations.
Specialized Experience
Security officers being considered for your company should have experience in the industry they're serving since each type of business comes with its own unique challenges. They should be well informed of all protocols, directives and duties with on-site experience so they can successfully protect your company and provide enhanced security measures when needed.
Security Solutions
Not every business situation requires an onsite officer on patrol, but comprehensive protection can still be offered through a variety of integrated security solutions. A security provider that's serious about your protection can provide video surveillance and access control, which offers both indoor and outdoor control over your facility during any time of the day.
Licensed, Bonded & Insured
The right security partner will be licensed, bonded and insured so you can be certain of professional quality and services. It also means that any lawsuits or violations against the company are disclosed for your comfort. A security provider that is active in these requirements not only stays compliant with the law and protects their officers but presents the highest level of professionalism to their clients, which protects you from liability.
Customer Centric
A security provider working in your best interest helps guide you to develop effective strategies and methods for managing your organization's safety and security. You should look for a company that stays involved and holds open communication to help solve your needs. It should be a collaborative partnership in order to ultimately ensure that they're meeting your needs and adding value throughout your facility.
Choosing security for your business is an important decision. However, by concentrating on these guidelines during your search for a security provider, you can be assured that you'll select the right company.