Standard

December 21, 2022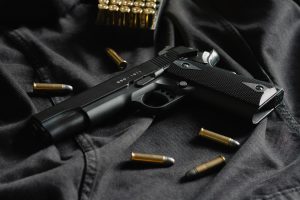 If you're hosting a gun show event, it's important to take extra security measures to ensure the safety of everyone present. Here are a few things you can do to help keep your guests safe.
Plan your event in a secure location
When hosting an event, it's important to choose a secure location. This means choosing a venue that is safe from criminal activity and has adequate security measures in place. One way to ensure a secure location is to choose a venue that is well-lit and visible from all sides. Another way to ensure security is to choose a venue that has security staff on site at all times. Finally, be sure to choose a venue that is close to emergency services in case of any problems.
Have security personnel on site
Ensuring the safety of employees, visitors, and premises should be a top priority for any business. One of the best ways to do this is to have security personnel on site. Security guards can help to deter crime, respond to emergencies, and provide a visible presence that can make everyone feel safer. In addition, they can also provide valuable information to law enforcement in the event of a crime. By having security personnel on site, businesses can send a clear message that they are committed to safety.
Only allow authorized attendees into the event
In order to ensure the safety of all attendees, only authorized personnel should be allowed into the event. All attendees must have a valid ticket or pass in order to gain entry. Have security conduct bag checks and patdowns at the entrance. Any unauthorized items will be confiscated and attendees who do not have a valid ticket will be escorted off the premises.
Make sure all firearms are unloaded and secured with trigger locks
Firearms should always be treated with care and respect. Before handling any gun, it is important to make sure that it is unloaded and secured with a trigger lock. This will help to prevent accidental discharge and ensure that the gun cannot be used by unauthorized individuals. When storing firearms, they should be kept in a locked cabinet or safe. Ammunition should be stored separately from the gun, and both should be out of the reach of children and other unauthorized individuals.
By following these simple tips, you can help ensure the safety of everyone at your event. Remember, firearms are dangerous weapons and should be treated with caution at all times. If you have any questions or concerns about how to safely manage firearms at your event, please contact us for more information.