Off Duty Police Security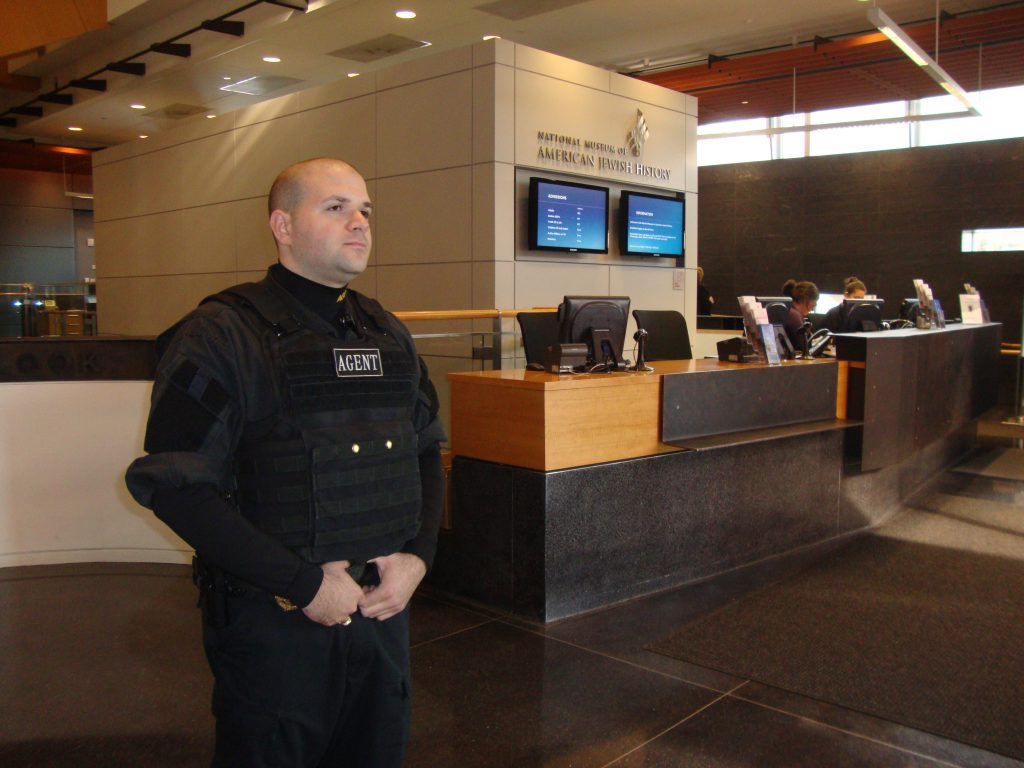 At Echelon Protection & Surveillance, we provide off duty police security to a wide array of clients who understand the value of working with highly trained security experts. Professional law enforcement officers are trained and certified to anticipate danger, de-escalate volatile situations, and respond to threats appropriately.
Hiring off duty police security is especially important in urban environments like Pittsburgh and Philadelphia because there is no substitute for experience when working in inner-city environments. If you're an executive, dignitary, celebrity, or athlete, then you already understand the value of working with highly-trained and experienced bodyguards who are capable of protecting you in any situation.
When you work with an off-duty security specialist from Echelon, you're hiring a fully trained County Sheriff, State Trooper, Police Officer, or some other specialized area of law enforcement. Our personal protection agents are trained and certified to deter and prevent unlawful or unwanted activity regardless of the circumstances.
Founded in 2001, Echelon Protection & Surveillance is one of the most trusted security specialists in the tri-state area. Why? Because of our responsiveness, management, and dedication to customer service.
When you hire an off-duty security expert from Echelon, we guarantee they have the following credentials:
United States citizen or permanent resident
Fully trained according to individual state standards
Passed rigorous Federal and State background checks
Completed comprehensive personal interview process
Why is Echelon Protection & Surveillance the security guard and personal protection provider of choice for discerning individuals in New Jersey, Maryland, Delaware, and Pennsylvania? Find out by calling us today at (610) 831-0277 or visit us at www.epsagents.com
Why hire off duty police officers as your security? Because qualifications matter
Off duty police are capable of providing top-tier personal protection and security because they have the training necessary to deal with any threatening situation that arises. De-escalating a threat or handling a volatile situation is a specialized skill set usually executed as a team. In the State of Pennsylvania, police officers and other law enforcement officials are required to complete a rigorous training curriculum, including weapons, first aid, defensive driving, traffic control, and the management of aggressive behavior programs both before and during their careers.
Many of Echelon's protection and security experts are retired State Troopers and Sheriffs. This means that they have a broad spectrum of training certifications that places them at the top of the security industry. Not only are our personal protection professionals highly qualified, but they also have decades of experience in the field, applying their extensive education. This is why so many discerning individuals, such as dignitaries, executives, and celebrities choose off-duty law enforcement for their personal protection and security guard needs.
In the State of Pennsylvania, Country Sheriffs, State Troopers, and Police Officers must possess the following basic requirements:
They must be United States citizens and 18 years old
They must have a high school diploma or GED
They must be in good mental and physical condition
They must have experience working as a police officer
They must pass Federal and State background checks
When becoming a police officer, training is provided in the following disciplines:
Weapons usage
Crime scene management
Arrest procedures
Access, crowd & traffic control
Constitutional law
Witness questioning procedures
There are many other certifications required to become a Sheriff. Ultimately, a police officer's ability to respond to any critical situation relies on effective training. In places where crime is an unfortunate part of daily life, who you choose to protect your loved ones and property truly matters. Nowhere is this more relevant than Pennsylvania.
An overview of crime in Pennsylvania
There were more than 218,000 crimes in Pennsylvania during 2020. Almost 40,000 of those crimes were violent crimes. When you see these staggering statistics, it's easy to understand why people select off duty police as security or personal protection.
If you live in Pennsylvania, you have a 1 in 300 chance of becoming a victim of a violent crime. If you're a celebrity, dignitary, executive, or easily recognized VIP, your odds of experiencing an altercation or are even higher.
Threats are omnipresent for anyone who resides in the public eye or has a high net worth. If you spend a lot of time in the city where most violent crimes take place, the greater risk of threat is something you should take seriously and be proactive about.
Highly trained police security, State Troopers, and Sheriffs are taught to mitigate threats before they start or grow out of control. Obviously, it's always best to avoid dangerous situations, but sometimes threatening encounters are unavoidable. If you're faced with a sudden threat, it's reassuring to know your bodyguard has the skill set and real-world experience to protect you from harm in virtually any situation.
The first line of defense from any active threat is to anticipate, deter, and de-escalate. A qualified off duty law enforcement professional knows how to manage aggressive individuals while acting as your personal bodyguard to get you to safety. Few are better at de-escalation than a veteran law enforcement officer.
If a situation does escalate, a police officer's training to mitigate the danger and call for support instinctively engages. In today's unpredictable social and political climate, it's important to safeguard yourself from bad actors who target executives, dignitaries, and other high-profile VIPs.
Police officers who work for Echelon receive additional training and supervision
Every member of our personal protection security team is reliable, experienced, thoroughly vetted, and state-certified. The personal protection experts you hire are trained to mitigate risk, solve problems, anticipate threats, and confront all challenges so that you can focus on your business and/or family.
Whether you prefer to work with an off-duty police officer that is highly visible or inconspicuous, their focus is always on you, regardless of the environment, situation, industry, threat, or challenge. If you're interested in hiring a police officer as security, personal protection, or as a bodyguard, you can be confident that they possess the following clearances and certifications:
First Aid, AED, and CPR
State & Federal Criminal History Clearance
Drug Testing
Management of Aggressive Behavior
Act 235 Armed (Certified Armed Guards)
All of our armed guards must remain fully trained to handle weapons and maintain these skills according to state law to better serve our clients
Why choose off duty police from Echelon Protection & Surveillance?
Why do so many dignitaries, executives, VIPs, and celebrities choose Echelon for their personal security needs? Because we have a tested and proven record of providing them with a complete list of exclusive security services. If you're considering what company you should choose for your personal protection requirements, consider the following.
Echelon provides you with decades of proven experience. We recruit elite security specialists with decades of on-the-job experience combined with industry expertise. Our personal security team is comprised of retired Sheriffs, State Troopers, veteran law enforcement, military personnel, Constables, and highly-skilled Police Officers. These proven professionals are trained to respond appropriately to any situation and are dedicated to keeping you and the people you care about safe and secure.
Echelon provides security when and where you need it. We will serve your security needs 24/7/365. If you need personal protection from a bodyguard or have any other security concerns, we offer the responsiveness and resources to solve your security challenges.
Echelon's agents are all fully credentialed, licensed, bonded, and insured, without exception. The person(s) protecting you will be professionally trained to minimize risk and liability and protect your people and assets. Every personal protection team member at Echelon is equipped with the tools and training to execute their duties at the highest level.
Echelon has one of the highest vetting and hiring standards in the region. Every off-duty law enforcement officer at Echelon is equipped with all necessary federal and state security clearances, insurance, bonding, background checks, licenses, and other specialized training certifications.
Echelon is your trusted security guard officer partner. Our team will work with you to develop advanced security strategies that mitigate liability and risk through careful planning.
Why do you need personal protection in the city? Consider these Philadelphia crime statistics
Philadelphia is one of America's greatest cities but it ranks above the national average for violent crime. During 2020, homicides increased nationally by about 30%. Most of these crimes were the result of gun violence. So far in 2021, Philadelphia is tracking to experience about 17% more homicides than in 2020.
What these statistics underscore is that your personal protection security is more vital than ever. This is especially true if you spend time in any Pennsylvania city, including Philadelphia or Pittsburgh.
Violent crime is unpredictable and often entirely random. If you're an easily recognizable VIP or high-profile executive, you should work with a personal protection team who can anticipate unwanted or illegal behavior before it manifests. The professionals protecting you and the people you care about are capable of dealing with known and unpredictable threats in real-time.
This is undeniably one of the best reasons to work with an off-duty police officer and other law enforcement professionals for all of your personal protection needs. When it comes to your safety, there is no substitute for experience and training when dealing with the pervasive threats that thrive in urban environments.
Contact Echelon today and get the protection you deserve
If you're looking for a professional bodyguard, security guard officer, or executive protection services, you can have complete confidence in Echelon. Our personal protection experts will work with you directly to ascertain your needs and develop a custom security plan that ensures you and your assets are fully protected in any situation.
Pricing for all of our off-duty police and other security specialists is quoted by the hour and based on well-documented security industry fee structures. Pricing may vary, depending on various factors including response time, environment, holidays, risk, and duties.
After we have a comprehensive understanding of your security guard and protection requirements, we continue to work as your trusted partner to determine the best way to deploy our law enforcement assets. Our mission is to protect your people and property with the best security possible in any situation – for your peace of mind.