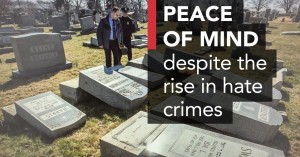 On February 27, 2017 the untoward happened in the least expected place. Over 100 headstones were vandalized in Mount Carmel cemetery, a Jewish cemetery in Philadelphia, on the heels of similar acts of anti-Semitism in Missouri over the previous weekend. Gravestones that had stood for years were knocked down, many of them cracked in two. While the community reeled, nearby business owners were also upset, as were the city's numerous synagogues, Jewish Centers, Day Schools, and Jewish museums.
Though Philadelphia citizens were appalled by this blatant act of hate, the unfortunate truth is that hate crimes in America have been on the rise in recent months. According to the Anti-Defamation League, this increase in anti-Semitic incidents can be found everywhere from social media to small business and homes, and can take many forms, including vandalism and bomb threats. In fact, in the last two months the ADL reported 70 such bomb threats made to Jewish community centers.
"We've never seen anything like this before," said Oren Segal, director of the ADL's Center on Extremism (source: http://www.jpost.com/Diaspora/Clear-uptick-in-US-antisemitism-since-election-says-ADL-482639)
However, this enmity in our communities does not have to take us by surprise or upend our sense of safety. As in any crisis, readiness provides peace of mind. For business owners everywhere, creating a cohesive security strategy and plan for the short or long term helps to ensure that you are prepared in the event that your organization is randomly targeted.
As a proactive deterrent, consider hiring a professional security guard company trained specifically in managing hate crimes. You can choose to have a complete security assessment of your property or a consultation that gives you overall view of safety measures that can be taken immediately. These consultations will also assist you in identifying areas of weakness, such as areas with little visibility, employees who have not been given background checks, or the lack of proper planning in the event of a threat or attack.
Security camera surveillance is another positive step in keeping your people and property safe. The cameras serve three important but distinct functions. First, the presence of visible video security serves as a built-in deterrent to would-be criminals. Secondly, if a crime does occur on or near your property, the resulting video footage can be extremely valuable in both catching and prosecuting perpetrators. Lastly, the cameras can be monitored at any time, allowing for an immediate response from security guards or law enforcement officials if any unwanted or suspicious activity occurs. To get the most out of your video surveillance, hire an organization that specializes in video surveillance plans and installation.
Another affordable safe-guarding option is to hire armed or unarmed patrols for your property during specific times of the year, such as Jewish high holidays when you anticipate a greater number of crowds and/or distraction that could leave you and your guests vulnerable. Having a licensed, highly trained professional(s) present to watch for unlawful activity allows you to enjoy your event with the knowledge that your participants are soundly protected.
Echelon Protection & Surveillance provides all of the above services along with twenty years of successful professional experience. We are licensed, bonded and insured, plus every guard is trained to respond immediately and effectively in a wide-range of situations.
We also understand the special security risks and challenges facing the Jewish community. As a Jewish-owned security solutions company, we offer proven security services to deter and stop anti- Semitic violence and criminal activity before it starts or gets out of control.
Specifically, our expertise in managing and preventing hate crimes can be found in the security solutions we provide for Jewish institutions and organizations in the private, public and non-profit sectors, including the National Museum of American Jewish History, Rodeph Shalom, Beth Tkva B'Nai Jeshurun, Brith Achim, Beth Zion-Beth Isreal, Shaare Shamayim-Beth Judah, Temple Sinai, Philly Israel events, and The Consulate General of Israel.
In these volatile and uncertain times, take the next step to keep your organization's people and property safe.  Our aim is always to anticipate and problem solve before a crime occurs.  Echelon Protection & Surveillance serves as your security partner, allowing you the peace of mind to manage your business or organization with confidence.
To see a full list of services including consultation, camera surveillance, employee training, and part or full time patrols, visit the website at www.epsagents.com.