Positive Behavior Training for Security Officers

By: Stuart J. Visnov, Chief Executive Officer, Echelon Protection & Surveillance
Word count: 662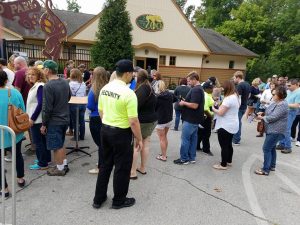 When hiring security officers, you want to employ individuals who are highly-trained in crisis management, adept at handling conflict with professionalism and wisdom,  capable of de-escalating encounters, and, perhaps most importantly, level-headed during times of stress. In other words, you want security officers who function like the best of emergency professionals; able to act quickly while also minimizing further conflict or violence.
Particularly if your security officers are interacting with students/children, you will need to ensure they have been educated about how to best relate to school age children. This training should not be focused on behaviors during stressful situations, but more holistically on creating positive daily interactions that lead to a more constructive school environment overall. Studies show that students who view officers as helpers are more likely to report crimes or to share information regarding illegal activity.
One option to consider is giving your security officers special instruction and certification in conflict resolution. Most local community colleges offer these types of classes for working professionals. Other organizations will hold one to three day training programs that lead to basic certification in conflict resolution. Still others will train your entire security staff onsite for a nominal cost.
Here are a few options to consider:
Employ a service specifically designed to train your security officers in this area. MOAB® Training International, Inc., for example, offers in-house instruction, one or three day courses, and courses specifically geared toward public safety officers. Courses from MOAB are designed solely for law enforcement, security, and military personnel. Visit their website for more information at moabtraining.com. As mentioned above, consider investigating continuing education courses located a nearby community colleges. Many will have coursework geared toward working professionals in the law enforcement field.
Supply your staff with recommended reading or video materials geared toward conflict resolution. Elsevier, a world-renowned textbook resources, offers books such as Conflict Management for Security Professionals. Security Guard Management (sgmnow.com/conflict-resolution/) have several reasonably priced DVDs for training purposes that focus on conflict resolution and crisis response for those in uniform. Nightclub Security Consultants and OneStop Interactive offer online classes for a nominal fee on conflict resolution and the proper use of force (www.nightclubsecurity.com/).
Hire security professionals who already possess a level of training in anger management, conflict resolution, and best practices for deescalating stress. At Echelon, all of our security officers learn how to evaluate tense situations as well as how to avoid further conflict. Each security guard is trained to deter and prevent unlawful activity in virtually every industry and They are subject to an intense screening process, including comprehensive state and federal background checks, and extensive interviewing processes. We also make certain that they receive continuing education in crisis management to ensure that they have the most up-to-date training and skills to keep them vigilant and engaged.  Those who work at schools are trained to interact with this population to create an atmosphere of trust and security. They are taught to manage a balance between respect and approach-ability, important qualities in building stronger relationships with young adults.
In addition, Frank Williar, Echelon's Vice President of Operations and Training, provides an additional level of proprietary training and a special orientation class for all incoming security officers. Williar, who is part of the day-to-day interactions with our staff, served in the Lower Merion Township Police Department for more than 30 years, starting as a patrol officer and later working as a criminal investigator and a member of a surveillance team.  Like the rest of our staff, he is dedicated to public service, and ensuring the safety of Echelon's clients by hiring and training the best security officers available.
However you decide to handle this aspect of best protecting your business, it is important to recognize that your security officers should be trained to resolve conflicts. Their ability to manage an emergency situation can make the difference between a peaceful outcome and a violent one.