Exceptional Vetted, Trained & Certified Security Guards

Armed Security Guards Glassboro NJ
Unarmed Security Guards Glassboro NJ
Your security depends upon having a well trained security guard who is vigilant, reliable, able to solve problems, and equipped with the technology and tools required to maintain your peace of mind. At Echelon Protection & Surveillance, we can develop a customized security plan that meets your needs using certified armed and unarmed Glassboro security guards.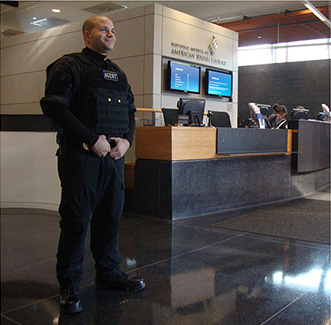 We offer flexible, cost effective security service solutions using both Glassboro armed security guards and/or Glassboro unarmed security guards
All of our security guards are well-trained and highly visible problem solvers that will work in any industry
You can try our security service for a day and experience first-hand our professionalism and overall value
In today's uncertain world, a professional security guard must be more than a just a person in a uniform - They must also ensure the protection of your property and personnel. Our Glassboro armed and security guards, and Glassboro unarmed security guards, must meet stringent qualifications to be a part of our team.
We also ensure that our security guards are equipped with the equipment they need to realize your unique security protocols.
Glassboro Unarmed Security Guards
From education facilities to personal protection, there are a number of situations where Glassboro unarmed security guards are required. We offer quick, affordable, and reliable solutions for any situation requiring highly-trained Glassboro unarmed security guards.
Glassboro Armed Security Guards
The volatile nature of our modern world sometimes demands Glassboro armed security guards to ensure the safety and protection of both people and property. Our Glassboro armed security guards are trained by law enforcement experts, which makes them ideally suited for situations requiring immediate response.
We can customize a security solution for you All of our security guards hold Clearances and Certifications that include:
Act235 Armed
CPR/First Aid
AED
Evacuation Coordination
Management of Aggressive Behavior
Package Inspection
Magnetometers
Contact Echelon Protection & Surveillance and let us help you develop a security plan focused on meeting your specific needs with both unarmed and armed Glassboro security guards you can implicitly trust.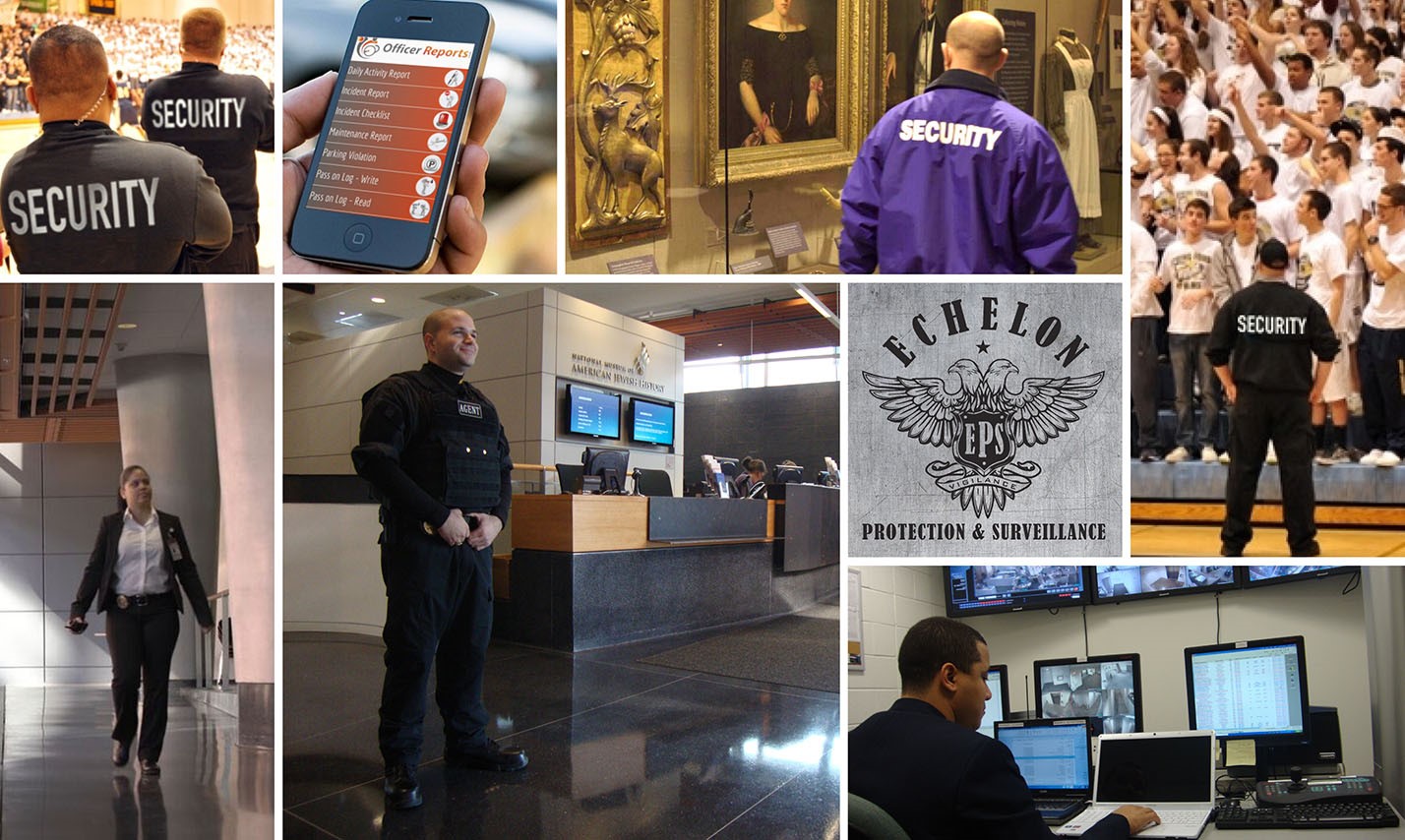 Glassboro Tidbits
A small community named Glassboro, New Jersey is located in the center of the County of Gloucester. This community received its name because glass was manufactured there. In 1779, Glassboro was also known as the Glass Works in the Woods, named by a man named Solomon Stanger. The sand in the region created the perfect glass, and the oak trees in the region fueled the production of glass. The proximity of Glassboro to Philadelphia also made it a nearly perfect location to be the center of the Glass Industry in South Jersey and to permit the Glass Works to become a leader in the production of glass.
The Stanger Family created beautiful glass pieces and were highly skilled in the art of glass blowing. During the American Revolutionary War, the unfortunate devaluation of money resulted in the Stanger family had to sell their glass works in order to pay their creditors. Two Colonels named Carpenter and Heston purchased the glass works and renamed it the Carpenter-Heston Glass Works in 1781.
Three sons Ebenezer Whitney and Bathsheba Heston took over the Carpenter-Heston who renamed the company as the Whitney Brothers Glass Works. In the 1800's, and the 1900's the Whitney Brothers led the Glass works to prominence in the glass industry, and assisted Glassboro in becoming one of the largest communities in Gloucester County, with a mason, shoemaker, carpenter, wheelwright, and a blacksmith. They were the makers of several well-known historic flasks, that included the Booz cabin and Indian Queen design bottles. In 1847, Mr. Thomas Whitney also constructed the historic Hollybush Mansion, which was originally for his own personal use.
In 1779, Solomon Stranger bought some 200-acers of property in the County of Gloucester. By 1781 the Stanger family began what eventually became some 148 years of continuous glass making in what is currently known as the community of Glassboro.
The glass blowing family no alternative but to sell a share of their glassworks, as the result of a re-evaluation of the dollar, in order to pay off their debtors. It took more than three years for the new ownership to take over, and by then, Colonel Thomas Heston had come to be a part owner of the Stanger works by 1784. The Stanger glass works was owned solely by Thomas Carpenter and Colonel Heston by 1786. The primary output of the Carpenter-Heston glass works was hollowware and bottles.
Carpenter and Heston still employed several members of the Stranger family although they owned and operated the new glassworks. They had significant experience and skill when they came to New Jersey. They were very important and much needed for the success of the Carpenter-Heston glass works. They were also involved in making glass making history in New Jersey. During the 1700's, they were brought to the United States as indentured servants by a man named Casper Wistar who sometime and later worked at several other glass factories.
The construction of a new furnace for the making of flint ware and window glass was one of the first things done in the new ownership did. Up until 1808, the Carpenter-Heston glass works continued although in 1802 Colonel Heston passed away.
The glass works remained at the same location known as the Olive Works between 1808 and 1824. Now owned by the sons of Thomas Carpenter named Peter and Edward Wickoff. In 1813, Edward Carpenter passed away and the Wickoff brothers sold their share of the glassworks to a man named David Wolf. Mr. Wolf also purchased Carpenters share of the glassworks and became the sole owner. However, it wasn't for long, as there was need to expand, so Mr. Wolf took on two partners named Daniel Focer and Isaac Thorne. In 1821, Mr. Thorne became sole owner and he sold the glassworks to a man named Jeremiah Foster in 1824. Eventually the Olive Glassworks merged with its competition named the Harmony Glassworks.
In 1813, the Harmony Glassworks was established. After the death of Mr. Carpenter, some of the glass blowers that included two of the Stranger family left the Olive Glassworks. Along with Daniel Focer and two other men named Levi Campbell and Daniel Rink, the Stranger family constructed a new furnace some 400 yards from the original Olive glassworks. This new venture comprised of talent and experience in glass blowing as well as in business. The Harmony Glassworks had a few houses for workers, many factory buildings and was quite a large glass blowing operation.
This more modern and larger glass blowing factory made a considerable amount of competition for the Olive Glassworks. Eventually the Olive Glassworks closed and became part of the Harmony Glassworks. Daniel Rink passed away in 1823 and his share of the glassworks was sold to a man named Daniel Miller, who owned the Franklin Glassworks that was located in Malaga New Jersey, which, in 1810 was established by a man named Christian Stanger. A man named Mr. Whitney acquired the remaining interests of the glassworks factory and became sole owner.
In 1841, a man named T. Whitney purchased the glassworks factory. From then on, they made bottles and sold them through the Whitney Brothers of the Harmony Glassworks. They were now selling their glassware under the name of Warrick and Whitney. Until 1849, a man named Eben Whitney who was the brother of Thomas Whitney that ran the company with Woodward Warrick. Eben Whitney acquired Mr. Warrick and Thomas Stranger acquired the glassworks factory belonging to Eben Whitney in 1859. Than Thomas Stranger bought back the Warrick Glassworks and continued making window glass until 1883, when Thomas Stanger passed away.