Exceptional Vetted, Trained & Certified Security Guards

Armed Security Guards Lancaster PA
Unarmed Security Guards Lancaster PA
Your security depends upon having a well trained security guard who is vigilant, reliable, able to solve problems, and equipped with the technology and tools required to maintain your peace of mind. At Echelon Protection & Surveillance, we can develop a customized security plan that meets your needs using certified armed and unarmed Lancaster security guards.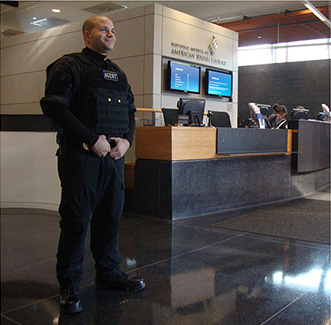 We offer flexible, cost effective security service solutions using both Lancaster armed security guards and/or Lancaster unarmed security guards
All of our security guards are well-trained and highly visible problem solvers that will work in any industry
You can try our security service for a day and experience first-hand our professionalism and overall value
In today's uncertain world, a professional security guard must be more than a just a person in a uniform - They must also ensure the protection of your property and personnel. Our Lancaster armed and security guards, and Lancaster unarmed security guards, must meet stringent qualifications to be a part of our team.
We also ensure that our security guards are equipped with the equipment they need to realize your unique security protocols.
Lancaster Unarmed Security Guards
From education facilities to personal protection, there are a number of situations where Lancaster unarmed security guards are required. We offer quick, affordable, and reliable solutions for any situation requiring highly-trained Lancaster unarmed security guards.
Lancaster Armed Security Guards
The volatile nature of our modern world sometimes demands Lancaster armed security guards to ensure the safety and protection of both people and property. Our Lancaster armed security guards are trained by law enforcement experts, which makes them ideally suited for situations requiring immediate response.
We can customize a security solution for you All of our security guards hold Clearances and Certifications that include:
Act235 Armed
CPR/First Aid
AED
Evacuation Coordination
Management of Aggressive Behavior
Package Inspection
Magnetometers
Contact Echelon Protection & Surveillance and let us help you develop a security plan focused on meeting your specific needs with both unarmed and armed Lancaster security guards you can implicitly trust.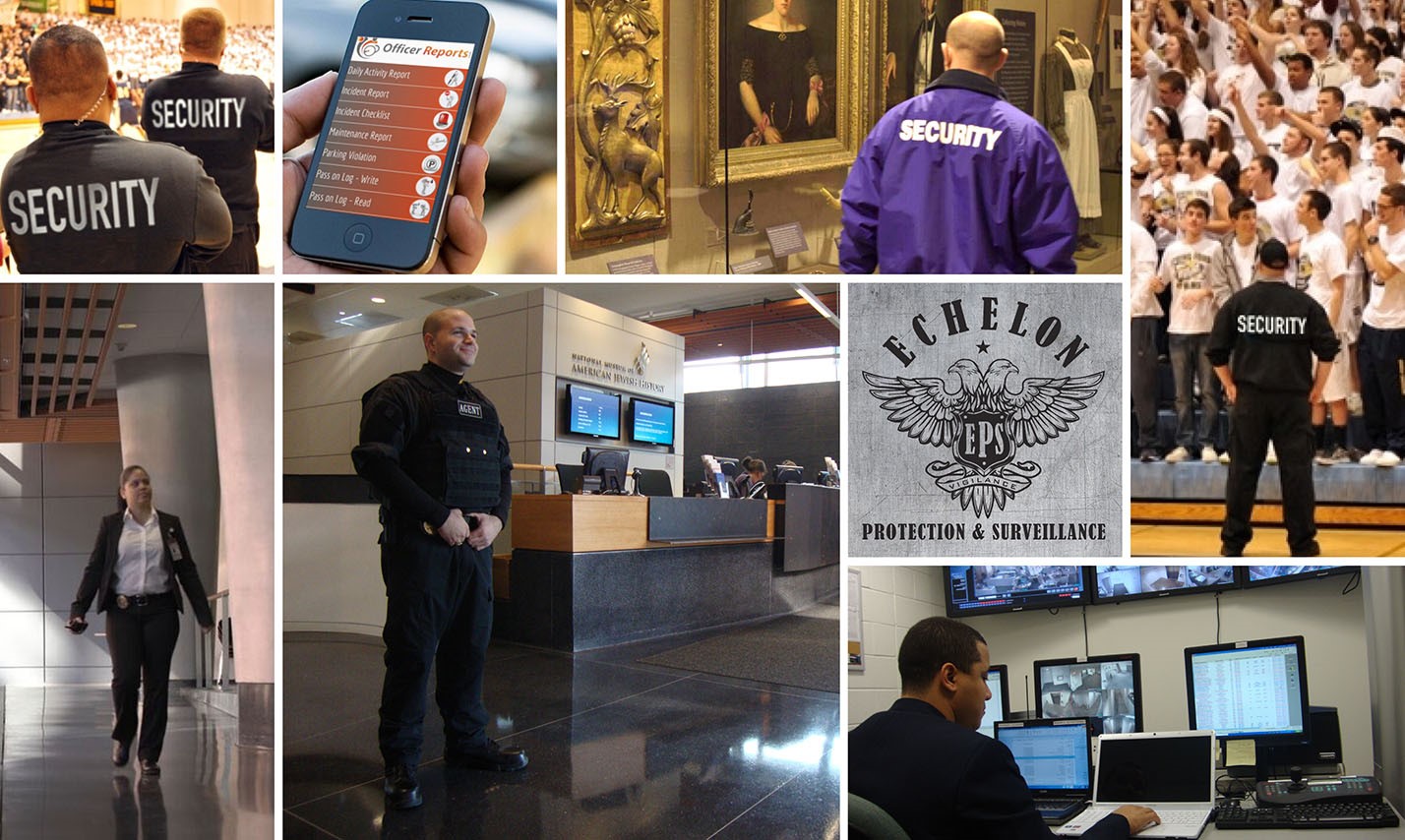 Lancaster Tidbits
Lancaster, Pennsylvania, is one of the oldest inland communities in the U.S. The city is situated in South Central Pennsylvania and serves as the county seat in the County of Lancaster. Some of the other oldest inland communities in the U.S. include Schenectady, New York; Albany, New York; Petersburg, Virginia, Springfield Massachusetts, and; Hartford, Connecticut. There are also many other early settlements. The population of Lancaster is some 59,322 people and among the cities in Pennsylvania, ranks eighth in population. The metropolitan region on Lancaster has a population of some 507,766 people. It is the second largest city in the region of South Central Pennsylvania and 101st largest metropolitan region in the United States. Lancaster is located some 71 miles east of Philadelphia and situated next to the Susquehanna River on the west and the north.
The main industries on Lancaster include semiprofessional and professional services. Lancaster was home to abolitionist and congressman Thaddeus Stevens as will at the 15th president on the country James Buchanan.
During the early 1700's the region currently called Lancaster was established. In 1730, the Europeans declared the settlement a townstead by the Pennsylvania governor. A man named Andrew Hamilton owned the majority of the property in the area. In 1733, his son named James was given by deed some 500 acres of this land. He also designed the layout of the community in a plan of rectangular land lots and straight streets. He also established what was known in those days as Center Square which is currently known as Town Square.
Lancaster served as the capital of Pennsylvania between 1799 and 1813 and is the oldest inland community in the U.S. It was replaced as the capital by Harrisburg in 1813. The community came to be called Hickory Town in 1709. Then a man named James Hamilton redesigned the community. Mr. Hamilton, was a prominent citizen. Eventually, Hickory Town was renamed to Lancaster after Lancaster, England, which is where he used to live.
In 1777, Lancaster was the National Capital of the American colonies during the Revolutionary War, as well as an important munitions center. Also, in 1777 after their capture of Philadelphia, the Continental Congress was fleeing the British forces.
In 1709, the first people to arrive in the region were popularly known as the Pennsylvania Dutch and were immigrants from Germany. In 1729, the Honorable James Hamilton platted the settlement, which became the county seat. Lancaster as the result to its link to Lancaster, England, Lancaster is often called the Red Rose City. In 1742, Lancaster became a borough and in 1818 became a charted city. In 1924, under the laws of the Commonwealth of Pennsylvania the city surrendered its ancient charter and became a Third-Class-City.
In 1865, the Mayor named George Sanderson established the Lancaster City Police force. A man named Charles Frailey was the first Chief of Police. Officer Frailey oversaw 21-night policemen who successfully restored order.
Situated in the basement of what was then known as Fulton Hall, and is currently known as the Fulton Opera house between 1852 and 1868 was the first jail. These days, the Lancaster Bureau of Police is a full-service police department that provided service to the community of Lancaster between the present and 1970. This police service is accomplished on a contractual basis. The Bureau is the only and largest urban law enforcement agency in the County of Lancaster, and serves a population of about 55,000 people. The current manpower consists of an estimated 46 civilian employees and some 147 sworn officers.
The Bureau has increased its implementation of policies that are community oriented for the past several years. The department has continued to address quality of life violations and provide the kind of response that is necessary
The department has been continually addressing violations that involve the quality of life, provide the kind of response that is required to interrupt drug trafficking, quiet noisy groups and automobiles and provide the opportunity for patrol officers within a particular platoon to conduct more investigations, be more visible, and be proactive since 2003.
Lancaster was subdivided into 12 districts for Neighborhood Policing. These districts are essential for overall service deliveries. From each of the four platoons, a group of officers, one officer is assigned full time 24/7 responsibility for providing police services to these somewhat small geographical regions. Each of these officers will be held accountable for proactive and well as traditional service within their sector. The officer will establish partnerships, engage in problem-solving techniques, and respond to calls for service. They will also be charged with engaging in crime prevention programs for business owners, and crime watch groups within their sector.
During the past several years, the Bureau of Police has had to continually adjust to many different cultural and organizational changes. Supervisors and officers must completely appreciate and understand the problem-solving process, because successful community policing has to be a philosophy that is practiced bureau-wide. With continued evolution, experimentation, and training, The Bureau of Police will continue to work diligently with positive collaboration with Lancaster.