Building & Construction Job Site Security
A Proactive Security Strategy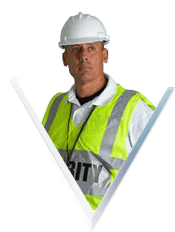 Although construction crime is estimated at over $1 billion a year in the USA, jobsite security is often ignored by smaller builders and contractors until an expensive incident forces them to react. By that time the crime has already affected your bottom line, reputation and most likely caused costly work delays. Larger companies tend to realize that crimes like theft and vandalism are real problems that must be addressed through prevention. A more proactive security strategy anticipates these job site challenges and budgets which plan for security in order to prevent major setbacks.
Vigilant Security & Surveillance Systems
Echelon provides security solutions for the construction industry including; vigilant security agents and video surveillance systems to safeguard your job site from theft, vandalism, intimidation and unauthorized access regardless of the type or size of your project. Our security experts act as your customized risk management team to access key risk factors, stakeholder objectives and the specific security concerns of your job site environment to ensure your materials, trailers and equipment are secure. We also take into consideration the unique security challenges associated with remote, metro or neighborhood job sites.
Research shows that thieves case job sites by day to evaluate soft targets, and learn routines and hours. As a security solutions provider for hundreds of businesses in our region, Echelon believes in a developing a "highly visible" strategic security plan which forces potential perpetrators to look elsewhere for an easier target.
Expert Security Assessments
Your construction site security begins with a comprehensive on-site security assessment. Our security experts work with you to determine the most efficient mix of perimeter fencing, exterior lighting, deterrent signage, strategic job site layout, security patrols and video surveillance technology to keep your assets protected and secure. Echelon also keeps you informed with daily security logs, complete with digital photos of areas of risk or concern. We also provide a security account manager available at any time for your security status meetings at no extra charge. And because Echelon has decades of experience in law enforcement we work in tandem with local police to support our security efforts on your behalf.
The Echelon Difference
Echelon provides highly trained and certified security agents and supervisors to patrol and protect your jobsite. All Echelon security agents possess their PA Child Abuse History Clearance and Federal and PA Criminal History Certifications and have undergone face-to-face interviews at Echelon headquarters in Limerick, PA. In addition they are trained in behavior management, CPR and AED. This ensures that all our agents possess the security proficiency, fitness and professional manner necessary to provide you with the most capable and vigilant guards available. We guarantee it. Specialized training and certifications, security expertise, plus years of experience working with construction companies like; Gilbane, EDiS, Haines & Kibblehouse, Westrum, O'Neill and Blackstone Development make Echelon the most trusted and effective security company in the region.
Once your project is complete, Echelon continues to provide a wide range of commercial and residential security solutions including; Access & Parking Control Systems, Video Surveillance Systems Plans & Installation, Employee & Visitor Management Systems, Armed and Unarmed Guards and Radio Communications.