Standard

September 27, 2022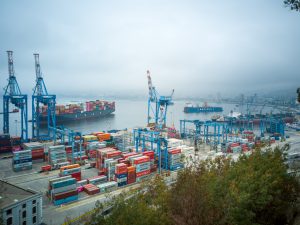 The interconnectedness of the world's supply chains has created new opportunities for businesses, but it has also led to a number of security risks. These risks are particularly acute in industries that are dependent on just-in-time delivery, such as retail and manufacturing. In this blog post, we will discuss some of the most pressing security issues caused by supply chain disruptions. We will also offer some tips for companies that want to mitigate these risks.
Cargo theft is the biggest concern for brands and retailers
Another security rick associated with supply chain disruptions is the possibility of theft. This can occur at any point in the supply chain, from the manufacturing facility to the retail store. In some cases, thieves target high-value items, such as electronics or jewelry. In other cases, they may steal large quantities of lower-value items, such as clothing or food. Either way, theft can lead to significant losses for businesses.
Cargo theft is a particular issue when there are supply chain issues. When cargo is sitting stationary in railyards, shipping ports or distribution centers, it becomes a target for thieves. For instance, research by CargoNet showed cargo theft on the US West Coast grew by 42% year on year
In September alone, $45 million in cargo thefts was reported, according to CargoNet. Compare that to almost $68 million in thefts for the whole of 2020 and $49 million in 2019 and you can see the impact the global supply chain crisis has had on thefts.
Worse still, the rise is only expected to continue. "What we're going to see next year is probably going to be similar to what we're going to see this year, as far as electronics and the same type of commodities," says CargoNet's Keith Lewis. "I don't see us coming out of that for a few years."
Cyber attacks break supply chains, too
Specialized cyber-attacks that aim to infiltrate a supply chain not only cause damage and disruptions for multiple companies, but also puts them at risk of being exploited. The manufacturing process of getting a product from beginning to end includes raw materials suppliers, manufacturers, and distributors; therefore, creating many possibilities for vulnerabilities which can affect anyone downstream in that chain.
An organization's supply chain network can be exploited by attackers from a variety of sectors. Companies in the financial industry, oil sector, and government are not immune to supply chain assault.
Attackers gain access by installing a rootkit or malware somewhere in the software vendor supply chain. They sometimes obtain credentials through remote access solutions like RDP, VPN, and others. Then they may successfully compromise the vendor's network to tamper with firmware, software programs or their updates, or product manufacturing processes. If this happens, customer businesses might install malicious software into their most secure network segments.
How to protect your cargo
There are multiple ways to protect your cargo during supply chain issues. First take cybersecurity seriously by speaking to a cybersecurity company.
Another way to mitigate the risk of theft is to use GPS tracking devices. These devices can help you to track your cargo and to know its whereabouts at all times. This information can be used to help recover stolen cargo or to prosecute thieves.
A final way to mitigate the risk of theft is to hire security guards to protect your cargo. This is especially effective when your cargo is sitting in a railyard, shipping port or distribution center. Security guards can deter thieves and help to protect your cargo. Contact us today for more information on how we can help and to get a free quote.