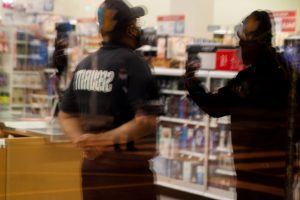 Security guards play a crucial role in protecting staff and ensuring their safety in various settings. From corporate offices to hospitals, construction sites to events, security guards are an essential part of any organization's security plan. In this blog post, we will discuss the important role of security guards in protecting staff and the benefits they provide.
Benefits of Hiring Security Guards
Hiring security guards can provide numerous benefits for businesses and organizations, including:
Deterrence:
The mere presence of a security guard can deter potential criminals from committing crimes on the premises. Criminals tend to avoid places where they know there is a high likelihood of getting caught or facing resistance. Security personnel act as a visible deterrent that sends a message to potential offenders that the premises are protected.
Quick Response:
In case of an emergency or threat, security guards can quickly respond and take necessary actions to protect staff and property. They are trained to handle emergency situations such as fires, medical emergencies, or terrorist attacks effectively. Their quick response time ensures that the situation is contained before it escalates further.
Customer Service:
Security guards can also provide customer service by assisting visitors and employees with directions or answering questions. They act as ambassadors for your business by greeting customers with a smile and helping them navigate their way around your facility.
Surveillance:
Security guards can monitor surveillance cameras and patrol the premises to detect any suspicious activity. By monitoring cameras and patrolling areas regularly, they can identify potential threats early on before they escalate into more significant problems.
How Security Guards Protect Staff
Security guards protect staff by performing various duties such as:
Access Control:
Security guards control access to buildings, offices, or events by checking IDs, verifying credentials, and screening visitors for weapons or prohibited items. By controlling access points, they prevent unauthorized individuals from entering restricted areas where staff members work.
Emergency Response:
In case of an emergency such as fire or natural disasters, security guards can help evacuate staff safely from the premises. They are trained in evacuation procedures and protocols that ensure everyone gets out safely without harm.
Conflict Resolution:
Security guards are trained to handle conflicts between employees or customers professionally and peacefully. They use conflict resolution techniques such as mediation or negotiation to resolve disputes amicably without resorting to violence.
First Aid:
Some security guards are trained in first aid and CPR techniques which can be beneficial during medical emergencies. They can provide basic first aid treatment before medical professionals arrive at the scene.
Conclusion
In conclusion, hiring security guards is essential for protecting staff in various settings. They provide numerous benefits such as deterrence, quick response time, customer service, and surveillance.