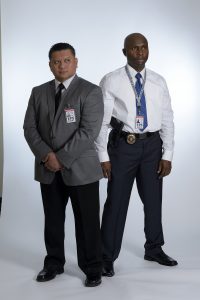 Echelon agents are specifically trained to protect your assets and minimize your risk.To ensure your protection and peace of mind Echelon goes to great lengths to hire only the most highly trained and experienced law enforcement, military and security industry professionals. We continually recruit, conduct background checks, train and hire professionals who take pride in their assignments -because they have chosen security as their career. Many of our agents are in fact high ranking off duty or veteran law enforcement officers including; sergeants, lieutenants and detectives.
Our dedicated and highly specialized manpower pool provides the added benefit of a seamless working relationship with local officials should the situation arise.
Rigorous recruitment process and high standards make certain that our clients get the finest agents securing their site or property possible. This unique hiring process combined with our high supervisor to staff ratio and quality control procedures effectively eliminates any typical agent performance issues you may find with other agencies.
In addition, the latest in camera surveillance technology allows you to observe your Echelon agents on the job via your personal computer, smart phone or pad device anytime to keep you informed. Our entire team is consistently trained on the latest in security topics, trends and technology via ongoing workshops and seminars related to their specific area of security expertise.
Echelon differentiates itself from other contracted security companies by employing off duty and veteran law enforcement professionals. Years of specialized training and experience on the job and in the field guarantees our agents respond with the appropriate action before during and after a security challenge to protect your assets and minimize your risk.
From honing patrol skills, expanding their surveillance technology knowledge to becoming a better leader, our people are trained, certified and able to meet your highly specific manpower requests, strategic planning and security challenges.