No matter the location, construction sites are vulnerable to various risks and threats. When everyone is done working for the day, expensive equipment, tools, and materials are often left unsecured. Bad actors may steal, vandalize, or intentionally destroy your valuable assets for no reason at all.
We've seen everything from neighbors sabotaging million-dollar gear just because they didn't like the noise, to vandals pouring sugar in heavy equipment tanks, to "inside job" theft of valuable materials and tools.
Here, we described some of the scenarios that might take place at a construction site. Studies show that while passive security measures such as fencing, lighting, cameras, and deterrent signage help — on site security guards provide better security protection. Guards often act as a real-time deterrent, stopping unwanted activity before it starts. Passive security measures are often helpful, only after the damage has already been done.
Below are 5 tips on hiring security for your construction site.
Tip #1: Look for a construction site security expert
Most security companies offer their services for different kinds of properties. Even though there are general practices that can be applied, each industry has its own security needs.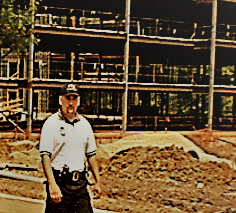 In this respect, it's better to contract with a company that specializes in construction site security, rather than a company that provides general security to the public and private sector. They will have the knowledge and experience needed to protect your property and assets, while understanding the special needs and flexibility that the building and construction industry expect.
Being familiar with your industry also allows for easy transition from one stage to another. They can easily adjust to your city or rural jobsite environment and are less likely to have missteps that create liability.
Tip #2: See which services they offer
Construction site security is not a one-size-fits-all affair. Your jobsite may have areas that cannot be actively patrolled or monitored and require wireless security. Sites with a lot of traffic may need on-site access control security during work hours. Most sites need to be patrolled overnight for theft, vandalism, fire and other unwanted activity. An experienced security company will be able to meet all of your building and construction security needs.
Tip #3: Read reviews from former clients
An impressive client list doesn't always mean they do well on their job. If you want to get an actual picture of their performance, you have to do your due diligence by researching what customers have to say about their capabilities and management. Did their clients leave positive reviews? Are there any active lawsuits or complaints? Are they properly licensed and insured? These are just some of the questions to consider to determine whether your security company is an asset or liability.
Tip #4: Talk to your insurance provider
Hiring construction site security will drastically reduce the liability and threats to your business, including: trespassing, theft, arson, hazard and destruction of property. By reducing these risks, your insurance company will have greater confidence in your project. In turn, you will pay less for your coverage and avoid costly delays that hurt your reputation and profit margin.
Tip #5: Sign a detailed, but flexible contract agreement
As soon as you've decided on a security company that's a good fit, the last step is to sign an agreement. But before you do, there are still a few things that need to be considered.
First, you need to agree on the shifts and number of security personnel that will be assigned to your project. Second, list estimated start and end dates. Third, discuss your security expectations and work toward a flexible contract that allows for security changes throughout the stages of construction work.
Of course, most jobs take longer than expected. Plus, you may end up needing more or fewer guards or shift coverage than estimated. Anticipating common sense adjustments based on industry experience is the best way to manage unexpected costs.
Since 2001, successful building & construction companies of all sizes have chosen Echelon Protection & Surveillance to secure and protect their job site from unwanted and illegal activity, including: theft, fire, vandalism, trespassing and safety hazards that cause costly delays. Call 610-831-0277 or email sales@epsagents.com today for reliable, flexible and professional security services.