Raw lumber, buckets of paint, electrical equipment and scattered debris. These are some of the things you'll find at a construction site. It's not unusual for basic materials to be out in the open when structures are being built. But, their presence significantly increases the chances of fires breaking out.
Fires are devastating to any business – but perhaps even worse for building and construction companies. Besides causing damage, they impact your budget and delay the completion of the project, damaging your reputation.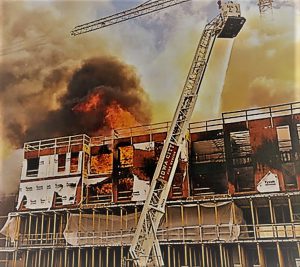 Site managers must keep construction sites safe by eliminating fire hazards and other potential threats. By law, they must take measures such as a fire watch to prevent fire-related damage and related injuries by workers, visitors and the public. They also protect structures and building materials from catching fire. Remember, a structure fire is also dangerous to nearby public and private buildings. Should a fire occur, diligent site managers have already limited the risk of fire spreading and causing more damage by taking every precaution.
Fire Risks and How to Protect Against Them
A fire can start from many things at a construction site. Flammable materials, cordless tools, battery-operated equipment, and heaters are just some of the most common sources of fire.
Workers who smoke or engage in work such as soldering and welding may also cause a fire. In recent years, arson or intentional fire has become increasingly common. Depending on your location, social environment, and climate, your probability of fire varies.
Here are 8 things you can do to reduce the risk of fire:
Flammable materials must be stored and disposed of properly. The amount of materials stored at a time should be kept to a minimum so large fires can be avoided.
Electrical equipment and battery-operated tools should undergo regular maintenance and be kept in safe, proper storage. Tools must be charged in stations located outside the building.
Site managers must inspect portable heaters and fans that are brought onto the construction site. They should be approved for use and not be left unsupervised when switched on.
Workers shouldn't bring cooking equipment at the site, and they shouldn't be allowed to cook either. Examples include grills, hot plates, and microwaves.
Site managers must impose a strict no smoking policy on site. A smoking and cigarette disposal area can be allowed but it must be in a safe location away from the site.
Secure the site by setting up fences, lighting on motion detectors, and perimeter controls. You should also hire licensed, bonded and insured security personnel who can monitor the site for access control and after-hours.
While the building is being constructed, make sure that there is access to fire extinguishers on site and that you know where the closest fire hydrants are.
Educate workers about the steps you've taken to avoid fire, and what they can do should a fire break out.
More Ways To Prevent Fire At Construction Sites
Structures that are under construction usually lack fire protection. This is normal since there are no sprinklers, fire alarms, and fire walls installed. For the meantime, you can set up wireless fire alarms. It is a simple and cost-effective solution to protecting your construction site against fires. Wireless fire alarms detect heat and smoke. They are linked to one another via radio. You can monitor them at all hours, even when the construction site is closed. Note that by law, most cities and counties require fire watches performed by trained security and safety officers while alarms and sprinkler systems are not operational.
Since 2001, successful building & construction companies of all sizes have chosen Echelon Protection & Surveillance to keep their jobsite safe and secure from unwanted and illegal activity, including: theft, fire, vandalism, trespassing and safety hazards that cause costly delays. Call 610-831-0277 or email sales@epsagents.com today for reliable, flexible and professional security services.