Standard

February 27, 2018
By: Don Benn, School Security Training Instructor, Echelon Protection & Surveillance.
Word count: 643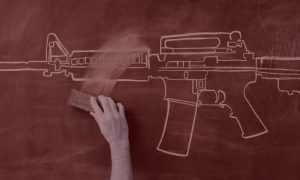 Echelon has been providing security solutions for educational institutions and school districts since the company was founded in 2001.
At that time, our original duties were to provide a helpful, professional, uniformed presence to assist the school staff in standard activities such as hall monitoring, crowd control at sports events, traffic control at arrival and dismissal, deterring horseplay and breaking up the occasional fist fight. This traditional style of school security required minimal specialized training and little more than common sense, good-character, and a sense of responsibility on the part of our guards.
This changed drastically after the events of December 14, 2012 when a 20-year-old male in Newtown, Connecticut armed with multiple weapons shot his way into a locked local elementary school and in less than seven minutes murdered 20 students and 6 adult staff members before taking his own life. At the time, it was the deadliest mass school shooting in America.
Within a week of this horrific event, our focus at the 20 schools in which we worked at the time shifted from deterring horseplay to preventing tragedy. Working in conjunction with school safety experts, district professionals and governmental and security industry trainers we rethought, revised and expanded our own exclusive school security training.
All Echelon school security staff received our proprietary School Marshal training.  Acknowledging that the very notion of having uniformed security guards in schools is fraught with controversy, budget and public relations concerns, we sought areas of common ground in an effort to deliver the most effective and affordable school security solution.
In the weeks following the Newtown murders, Echelon security specialists accompanied school district leaders on safety and vulnerability inspections of their schools.  During these security assessments, recommendations were offered and incorporated into revised crisis prevention and response plans.  Echelon participated with school staff in district lockdown and evacuation drills. We shared our collective expertise and became more knowledgeable and better trained ourselves.
At that time, Echelon was viewed as an "outside vendor" who understood that our job was essentially to carry out the district safety policies that were already in place. In time, we became regarded as "security partners" that take the lead in assessing the risks and developing the proactive strategies and technology to prevent active shooters and other crisis related events. Currently we provide security for over 60 public, private, parochial, charter and religious schools on a full-time or part-time basis, and we are able to train every guard to respond to active shooter threats in order to protect the students, faculty and staff.
Our guards learn the basics of such tested and proven methods as Run-Hide-Fight, in which they learn to use confrontation as a last resort.  In addition, they receive training in Move-Escape-Attack, which is a little more flexible but a little tougher when in charge of a large group of students.
Our guards are exposed to a veritable alphabet soup of methods including A.L.I.C.E (Alert, Lockdown, Inform, Counter & Evacuate) and C.O.U.N.T.E.R. (Consider Options Use New Thinking & Evade or Retaliate).  We teach these varied forms of response because we want our security guards to be able to adapt to the policies and protocols of whatever school they are assigned to protect.
With each new tragedy, like the latest Valentine's Day shooting at Stoneman Douglas High School in Florida (17 killed), new information and strategies are formulated by law enforcement agencies and private security companies like Echelon. The best security guards will have a survivor/protector mindset. We train our guards to overcome the very basic human instincts of Flee, Fight, or (worse) Freeze.  A variety of training and technology provides our guards with more options to keep every person safe.