By: Stuart J. Visnov, Chief Executive Officer, Echelon Protection & Surveillance
Word count: 726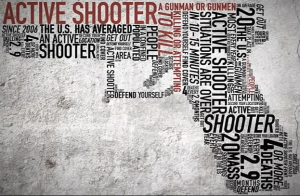 In the 2 weeks between Part One and Part Two of this blog there have been 2 more "mass shootings."  On June 17, 2018 at least 17 people were shot at an Art Festival in Trenton New Jersey, and  last week 5 more individuals were killed in a "mass shooting" in Annapolis Maryland.  Please note that the quotation marks around the words "mass shooting" are there to comply with the federal government's definition in which "4 or more people are shot".
When we look at the total number of 2018 shootings in which three or less people were shot, the number varies depending on differing statistics from a low of 100 to more than 154.  No matter what the actual number is, we can all agree that any number is much too high.
While Echelon security staff was not deployed at either site, it is our belief that the training our security guards receive prepares them for rendering immediate assistance to our clients in the vital minutes between the time the first shot is recognized, and the first responding law enforcement officer arrives.
Our officers are trained in the ugly truth that no matter how a venue is secured, that the assailant will always have the upper hand.  Unlike law enforcement, security staff or the general public, the assailant knew they left their house with the intent of coming to an event to take human lives –  everyone else did not.
Statistics have shown that nine times out of ten, the assailant is either a current or former student, employee, or patron of the venue and has knowledge of how to enter the building with the least amount of detection.
While many other security companies stress the basic training of our industry – customer service, patrol basics, and report writing (all invaluable security industry skills) we require that all applicants be competent in such areas before their formal training commences. Building on these core values we then focus on what to do when things go wrong:
Dealing with Difficult People
Observation Skills
Tactical Awareness
Crisis Response or Active Safety Response.
And, because about half of our guard force is unarmed, we focus on the role expected of them in such situations.
We do our utmost to impress upon each new officer that in crisis situations their role as an unarmed guard is to alleviate panic.  We make sure that they fully understand that in the precious few minutes until law enforcement arrives and the "threat is neutralized" that they will be the first person of authority that frightened employees, guests or patrons will turn to for guidance.
Their first duty is to get as many people to safety as possible, using evacuation routes that are the least dangerous.  Once this is done and people are safe, our guards are trained to alert authorities that there is a shooter on the premises.  We instruct our staff on how to call local authorities, 9-1-1 and what information to provide.
Our security instructors stress the importance of safely exiting a building and best practices for doing so.  We teach the basic skills to assess if safe exit is not an option and provide the knowledge through practical exercises such as:
Securing an area
Cover vs. concealment
Improvising locking devices
(and only when necessary) committing themselves to direct confrontation with the assailant
Interacting with law enforcement upon their arrival.
Echelon understands that the training provided to new security guard staff members is not equivalent to the rigorous training provided to law enforcement – nor is it designed to be.  Its purpose is to provide familiarity with concepts, empathy with victims, and to guide the proper actions in times of crisis situations.  Our first duty to our clients will always be to respond in a preventive and proactive fashion at the most critical times.
Yet, should the circumstances arise, and prevention is not possible, our security guard staff understands that our role is to:
Mitigate as much physical and emotional harm as possible
Decide upon the proper survival protocols
Make sure that techniques are correctly applied
Keep everyone safe and secure until law enforcement arrives and the threat is eliminated.
Every state has different standards in order to become a certified security guard, so Echelon provides our own proprietary training to ensure our officers are prepared to respond appropriately in any situation.