By: Stuart J. Visnov, Chief Executive Officer, Echelon Protection & Surveillance
Word count: 523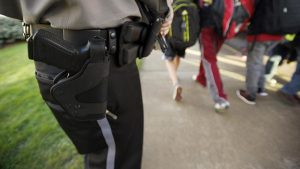 Training programs for armed guards in the modern security industry can run the gamut, from non-existent to extensive.  In most corporate settings, limitations on the level of training provided to security officers are often the result of real world budgetary considerations.  State regulations and insurance companies also influence the type and extent of armed training initiatives.  The unfortunate reality is that merely meeting legislative, liability, or client financial requirements may lead to ineffective or unproductive security officer training to the detriment of everyone's safety.
Remember, that the training of armed security officers is not only geared toward the use of a firearm.  Rather, it is only one component of the training that utilizes the option of deadly force during an encounter with an adversary.  Training to become competent in the techniques that could result in the taking of another human life encompasses a number of issues that come into play during and after a lethal encounter.  Regrettably, training security officers to anticipate the physical and emotional aftermath of incidents is virtually non-existent in modern training.
Often overlooked or disregarded are the numerous other aspects of security officer training that exist in a force continuum in addition to deadly force.  This non-lethal instruction includes the way a security officer reacts on the scene, such as making his presence known and using some measure of physical force to gain subject compliance. In addition, the use of verbal de-escalation techniques to manage aggressive behavior (MOAB), open-handed control, chemical weapons (OC spray), impact weapons (batons), grappling hand-to-hand combat, and non-lethal munitions are all force and training options, as well as legitimate choices for security officers when interacting with a combative subject.
While many law enforcement and security trainers refer to the alternate use-of-force options during lethal weapons training classes, few actually conduct the kind of comprehensive training sessions that leave individual security officers comfortable and capable of executing these options in a confrontational situation.  Arguably, verbal de-escalation techniques are the most important of all security officer responses to counter a threat, yet this remains the least thoroughly taught of the continuum of force options.  Verbal de-escalation becomes even more critically important given the fact that very few security officers are provided with the non-lethal weapons options available, because either the security company or the client tend to view those options as either too expensive to manage or another liability.  As a result, many security guards often lack the training and associated comfort level necessary to deploy these alternate weapons appropriately.
The bottom line is that it becomes incumbent upon those of us in the security industry to make the necessary commitment and investment to be certain that armed guards are trained to a competent and capable level.  The best security companies must train their guards to determine when deadly force may be necessary and react appropriately. However, they must also be proficient with utilizing all necessary non-lethal options when confronted with critical and demanding security situations. Decidedly, the great majority of incidents faced by security professionals will require the competent use of non-lethal force as the correct, and legal, response that keeps people safe and mitigates liability.