By: Stuart J. Visnov, Chief Executive Officer, Echelon Protection & Surveillance
Word count: 755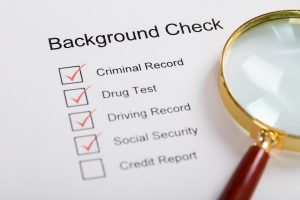 All reputable security companies run background checks before hiring new guards to be certain that both the client and the company itself are protected and represented by reputable individuals. For the most part, states require that a background check be performed before a guard can be issued state credentials like the so called "Guard Card."  The most important duties of a security guard are to protect the clients' property, possessions, and personnel, so before hiring, a good look into the guard's past can shed light on how successfully they might be able to perform their duties.
Background checks and credentialing are in the best interest of the client, the security company and the guard him/herself. While the discovery of some minor legal "issues" may be forgiven, most states and security companies must be cognizant of prior felony convictions or open charges, particularly ones involving theft or violent crimes. Additionally, knowing if a conviction on "minor" charges was a result of a plea agreement (which originally included felony-level offenses) can be a major indicator of an applicant's potential for success or failure.
Not only do background checks help in hiring decisions, but they may also protect a business in the case of potential lawsuits or other legal complications. For example, let's say a business chooses to hire a guard on their own, without the help of a reputable security company. If that guard was previously convicted of theft and then steals from the business, that business will probably not be able to file a claim for stolen property, regardless of whether they knew about the previous infraction or not.
Individuals applying for a security guard positions should be informed and expect that a criminal background check will be a major part of the hiring process, a tacit demand requiring 100% honesty on their application. Companies will compare the information on an application with the information garnered from background checks and a uniform and unbiased process for weighing prior minor infractions in an applicant's youth may be no problem, unless of course they've lied about it.
A reputable security company will conduct fairly extensive background checks before hiring a guard that might include any or all of the following:
Criminal Background Checks – Obviously, a security company making a hiring decision needs to know about past criminal activity. But they also want to see that the information on a potential employee's application matches the information in the background check. An applicant who lies about past criminality, even if it is a very minor infraction, will have a hard time convincing a company that they are honest and should be hired.
Fingerprints – In many cases, guards will also be fingerprinted so the hiring company can run the prints against the FBI's Integrated Automated Fingerprint Identification System. There can be issues in an individual's past that do not show up on a standard state level criminal background check.
Driving Records – Many guard positions require driving duties, so a fairly clean driving record is important. Confirming that the applicant possess a valid/current driver's license as well as a registered and insured vehicle should also be considered before hiring employees to fill spots where public transportation is not an option.
Sex Offender Database Checks – Security guards will interact with all manner of people in the course of performing their duties. An applicant whose name appears in the Sex Offender Database will not be eligible for employment.
Credit Checks – A check of a potential employee's credit history is becoming normal for many jobs, even outside the security industry. Most states require security guard applicants to consent to a credit check, and in most cases, if an employer turns down an applicant due to a problem on their credit report, they are required to show the applicant the report and the reason for the rejection.
Open Charges – If an applicant is in the midst of legal battle, for example, if they are engaged in a civil case with a spouse or family member, or perhaps involved in a domestic violence case or under a Protection from Abuse (PFA) order, it is unlikely that they can be hired.
Established and well managed security providers will have their own battery of application and interview questions that add depth and detail to the typical background check process. Despite how extensive state and federal background checks might be, there is no substitute for sitting across from an individual and asking probing questions about their current legal status as well as their past.