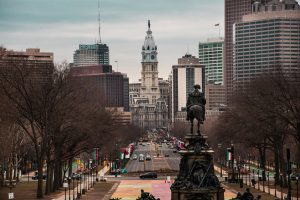 Gun crime is surging in Philadelphia, PA. In 2020, 447 people died as a result of gun violence. That was the most gun-related homicides in 30 years.
Things were no better in 2021. Last year homicides reached a record high of 557, making it the deadliest year on record. The percentage of deaths by gunfire was also incredibly high. In 2021, 89% of homicides were a result of gun violence — a figure that is 15% higher than the national average.
What's Causing It?
Experts say the reasons behind this spike in gun violence could take years to discern. Several once-in-a-lifetime events have occurred at the same time (a pandemic, economic uncertainty, nationwide protests and political unrest), all of which can cause the kind of stress and anxiety that results in a rise in gun crime.
Is the City doing anything to stop it?
City officials have taken several steps to combat the rise in violence, but they are also hamstrung by state laws.
Philadelphia's city council approved a 2022 fiscal budget that invests more than $155 million into violence prevention programs, including $22 million in grants for organizations that reduce "violence through trauma-informed healing and restorative practices and safe havens and mentorship."
The state's Governor, Tom Wolf, has also urged violence prevention groups to apply for state grants and called for tighter gun control laws.
Unfortunately, officials are hampered by the state's preemption law that prevents cities from enforcing local gun ordinances. The city is in the process of seeking legal action to overturn this law, but it may be some time before a result.
What Can Businesses Do About It?
Businesses big and small are at risk of gun violence. Dozens of these attacks happen every year, resulting in hundreds of deaths. Attackers vary from disgruntled employees, irate customers, or opportune thieves.
In 2017, for instance, there were 351 gun homicides in US workplaces, averaging almost one person killed every day. Since 1999, there have been four times as many mass shootings in the workplace than in schools.
If you feel your Philadelphia business is at risk of gun violence, speak to the local police first. They will be able to visit your business and discuss how you can best prepare. You should also speak to third-party consultants. Consultants can talk to your employees about how to behave in an active shooter scenario, pointing out the safest places for shelter and the best escape routes.
Ultimately, the best protection for your business will be an armed shooter. They have the experience to handle any kind of violence in your workplace as well as the means to disable anyone posing a threat.
At Echelon, all our armed security guards are certified to carry firearms on duty, observe a strict corporate training policy and have experience protecting businesses, executives and celebrities.
Please get in touch for more information on how we can help.