By: Stuart J. Visnov, CEO, Echelon Protection & Surveillance
Word count: 497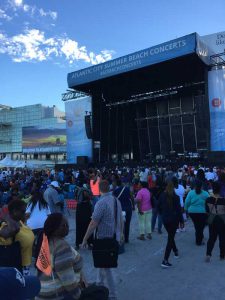 When you consider the variety of assets and organizations it takes to put on a successful event – it's almost like managing a small town.
Our security firm has built a solid reputation in event security. Over the last 18 years we've had the opportunity to provide security and event staffing for such prominent events as: the NFL Draft, Democratic National Convention, NJ Renaissance Fair, Country Spirt Music Festival, Philadelphia Love Run, Made In America, Philly Fashion Week, and the Atlantic City Iron Man Triathlon. This year alone, we'll provide security for over 100 events in the tristate area.
Providing security for events like these involves careful planning, scheduling, site mapping, transportation, equipment, directives, site visits, coordination with law enforcement and various other event related organizations.
Depending on the venue location, type of activity, amount of days and number of attendees, each event will have different challenges. As an example, while some events may need security guards trained in ID access control, first aid, and alcohol management, others may require metal detection and personal protection. At smaller venues, a professional security guard presence alone may be enough to deter unwanted or illegal activity. This is why security officers are often posted in areas where they're highly visible and have the best ability to observe, report, and if necessary – intervene.
The best security firms learn from their missteps, by taking the time to debrief after each event. These reviews are used to explore what went well, and where improvement is needed. When a security company is responsible for thousands of people's safety, stakeholders must be certain security is prepared for any contingency. Over time, these protocols become standard operating procedure in order to minimize risk and maximize enjoyment.
For larger events, there are dozens of details and logistics to consider because of all the player's involved: Promoters, event planners, tour directors, staffing, transit, associations, media, businesses, institutions, venue managers, hospitality services, unions, retailers, law enforcement, emergency medical services and security firms.
Although public mass shootings are only a small segment of our country's gun related deaths, they are very distressing to event planners, patrons, sponsors and security firms, because these shootings happen randomly in the most ordinary places. Based on recent shootings at national events, only the top 500 security companies have the infrastructure, technology and training to keep everyone safe at larger events.
If you want peace of mind at your next event, take the time to communicate anticipated concerns to your security partner, and don't settle for just "a security guard." The objective is to find guards with the right experience, temperament and skills to fit your brand personality. The biggest vulnerability to any event is not unknown outside elements, but rather hiring the wrong security guards.
Be aware that no amount of training or planning is foolproof. However, knowledge is power, so the more information that a security company has prior to the event, the more prepared you'll be for any incident, crisis or emergency.