Standard

September 29, 2017
By: Stuart J. Visnov, Chief Executive Officer, Echelon Protection & Surveillance
Word count: 497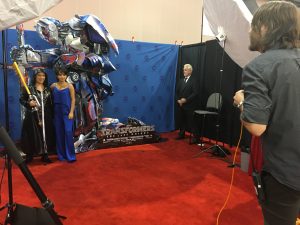 For individuals in the spotlight, fame offers both the pleasure of positive recognition, and the dangers that accompany being a known entity. Whether you're a famous performer, a political figure, or a high-profile business person, finding yourself bumping up against excited fans, paparazzi, or constituents can prove to be one of the greatest risks of your particular role. An unfortunate consequence of today's political climate is an extra charge of conflict between those with celebrity status and the public. Increasingly, there are individuals who feel it their responsibility to take a stand, sometimes by using violence. Because of these greater threats and the less stringent gun laws and regulations, if you are someone whose work places requires you to be in the public eye, you should take steps to protect yourself and your family.
First, consider hiring a certified protection professional to accompany you and your companions when you are traveling or know that you will be otherwise more publicly available. You can find body guards whose sole mission is to maintain your safety, while also allowing you a sense of autonomy and freedom despite their presences. When you are working with professional security group, ask them to access your level of risk, and to point out when and where you might be most vulnerable. You should also request that they create a strategy that takes into account all parties involved, and that includes ways to avoid any unnecessarily risky situations. Specifically, this could mean mapping out driving or travel routes, and searching for the safest alternatives.
Secondly, the ideal protection professional will always bear in mind the need for life to continue on as normally as possible, without the obvious intrusion of outside protection. Jim Dambach, Director of Executive Protection and Investigations, former Lieutenant, and Veteran of the Philadelphia Police Department, Secret Service, and FBI explains the philosophy of Echelon's approach. "Our eyes do not leave the individuals we are hired to protect. We anticipate and avoid threats, rather than reacting to them. Our number one priority and area of expertise is to cover the client and make sure he or she remains secure while also providing a minimal amount of interference."
At Echelon, we pride ourselves in hiring the highest caliber bodyguards who are trained to manage the specific needs of a VIP and her or his cohorts. In addition, they are trained to administer emergency medical attention, to be adept at package inspection, and to be armed as needed. Lastly, they receive training in ways to serve and protect without invading your privacy, so that your travels or interactions are both safe and natural.
Our team is backed by an executive director with over 40 years of experience in a high-level position in the Philadelphia Police Department, and approximately thirty years investigative experience dealing with everything from street crime to corruption to homicides. We are prepared to protect you in the best way possible, with the least amount of infringement on your day-to-day activities.