By: Stuart J. Visnov, CEO, Echelon Protection & Surveillance
Word count: 650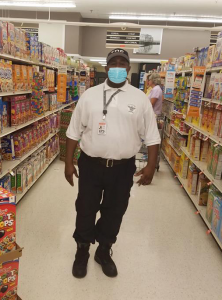 Like most industries around the world, security companies of all sizes are experiencing financial losses as they struggle to navigate the unprecedented business challenges caused by the COVID-19 pandemic. In general, the businesses that used security guards to interact with the public have shut down, while other businesses that use security to patrol buildings, jobsites and campuses have maintained or decreased their security plans during the shutdown. There have also been requests for emergency security services as clients respond to this novel and ever-changing set of circumstances. The increased requests for security services specifically related to the lockdown include but are not limited to:
Grocery and wholesale stores that require additional crowd control
Shipping warehouses that need employee social distancing enforcement
Car dealerships and auto malls that have inventory sitting unprotected
Property management and residential groups mitigating civil unrest
Cultural and religious institutions that fear panic induced hate crimes
Shuttered wholesalers or retailers with valuable merchandise
Construction and building companies that require jobsite and equipment watches
Healthcare facilities impacted by the pandemic
Whether it's protecting buildings, equipment, inventory or educating and enforcing social distancing within the public or private sector, many industries may discover a need for security services in this unprecedented international crisis. However, it seems certain that event security will be the last to restart until widespread testing is available. As a result, security companies that specialize in event staffing, access and crowd control for large venues will suffer financially. Smaller events, such as concerts, holiday gatherings, celebrations, festivals, runs and fairs will continue to be cancelled as well.
With so many clients cancelling or postponing services, many companies have had to layoff, furlough or cut salaries in order to survive – causing a lack of security guard availability. This has caught security firm owners in a double-bind of having to reduce staff and expenses, while still maintaining the ability to respond to emergency requests. Due to this shortage of security guards, some corporations have had to rely on "security service consolidators" to provide the coverage they require. Although consolidators can often provide the national coverage chain stores and franchises need, they do so via a network of un-vetted regional security partners which often results in a lack of quality control or supervision.
This day-to-day uncertainty has caused a variety of new human resource and staffing complications for security companies. For instance, many officers who are collecting unemployment compensation, are turning down shift work because they'd rather stay home safe and avoid the risk of becoming infected and exposing their family. Many guards have chosen to take other work to make ends meet and may not return to work after the crisis. Those guards who want to work will require hazard pay and professional personal protection equipment (PPE) such as gloves, face masks and hand sanitizer in order to do their job safely within Center for Disease Control (CDC) and World Health Organization (WHO) guidelines. Remember that before Covid-19, unemployment was at a record low and recruiting was the most competitive it has been in decades. As we post this blog, the pandemic has caused over 26 million Americans to lose their jobs, which is more than all the jobs added over the past 10 years. This complete reversal in the job market will make recruiting quality security guards easier going forward.
The best plan of action for security companies is common sense: Stay calm, gather information, be flexible, don't make rash decisions, communicate with employees, and adhere to state and federal directives in order to make the most informed decisions. Security industry leaders and influencers must look deeply at this national emergency to determine how they can be most effective and helpful, while looking for the hidden business opportunities within this crisis. The best of the best will come through this storm, better prepared for the next security challenge.