Standard

September 17, 2020
By: Stuart J. Visnov, CEO, Echelon Protection & Surveillance
Word count: 1036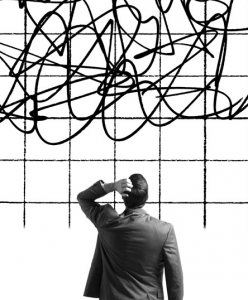 Security Companies Must Make Friends with Uncertainty
Since the Covid-19 pandemic was declared a national emergency, every industry has been affected. No business was immune, but small businesses suffered greatly as 100,000 closed forever. However, some businesses fared better than others because either they were deemed an essential business and allowed to stay open, or they happen to have been a company that benefited from the products and services that were in demand as a result of the pandemic. As restaurants failed, food delivery apps like DoorDash and supermarkets thrived. As movie theatres reeled, streaming services like Netflix prospered. As Malls pulled their gates, online retailers like Amazon soared. And while hotels, convention centers and event venues closed their doors, Workspace Solutions and online conference companies like Zoom, boomed.
Although essential worker categories varied by state, many major sectors overlapped. Industries like energy, child care, water, agriculture, food production, grocery stores, hardware stores, mechanics, transportation, nonprofits, social service organizations, and trades like construction workers, electricians, plumbers and security companies were able to keep working to serve the public.
As an essential business, we were able to stay open to service our clients and support law enforcement as needed. If police were otherwise engaged, certain types of security work, such as patrols, protection, surveillance, fire or flood watches would find its way to regional security companies. As it turned out, civil unrest was a serious national concern as several crises rocked the United States at the same time.
Lack of a national pandemic plan contributed to 200,000 deaths, record unemployment and economic chaos. Each political party blamed "the other" as culture wars and conspiracy theories erupted over the most basic facts and issues.
Government-imposed coronavirus shutdowns resulted in armed anti-lockdown demonstrations supported by the current administration.
Thousands of protestors took to the streets against police brutality and decades of bad civil rights policy. Frustration, violence and property damage ensued while outside agitators poured fuel on the fire.
Extreme weather caused massive floods and wild fires which taxed the resources of states already plagued by pandemic suffering.
Mixed messages regarding all of the above from the Whitehouse, government, scientists, public health officials and the media culturally divided America even further.
How should businesses proceed during a time of such extraordinary discontent, disorder and uncertainty? I can only speak based on my direct experience as CEO of Echelon Protection & Surveillance. Security Companies Must Assess, Plan and Pivot:
Assess. Don't Guess.
Very quickly, we understood that the pandemic was going to change everything, especially the way we conduct business. Common sense dictated that we'd lose all clients involving large groups of people. We anticipated losing events, hospitality, school and retail security clients – and watched them disappear almost overnight.
As unemployment climbed from a low of 4.2% to a historic high of 14%, we found that many of our security guard personnel were afraid to return to work for health reasons. We respected their health concerns, but offered hazard pay as an incentive to return to work. By law, we also informed employees that if they refused work, it may affect their unemployment status. Many people simply calculated that based on unemployment benefits, plus the CARES Act economic relief, they could make more money staying home than going back to work. Understanding these dynamics allowed us to begin to plan our way through Covid-19. Our first goal became to bring our monthly budget in line with our reduced revenue to protect all stakeholders.
Plan for Sustainability.
Over time, we began to see some industry trends caused by the pandemic and methodically reviewed clients and expenses for sustainability, practicing what Buddhist's call "beginner's mind." We examined expenses weekly, made tough cuts, prioritized long-term clients, resigned accounts that weren't profitable, concentrated on collections, initiated operations efficiencies, retooled recruiting, renegotiated contracts, reconsidered our marketing strategy, and increased rates based on demand. Our mantra was "be decisive, but don't make decisions based on panic."
When we learned that the Government was offering a Payroll Protection Plan (PPP), we applied, secured the loan, and carefully complied to the changing guidelines. The PPP loan basically worked as intended by allowing us to maintain our payroll and bills for 16 weeks, while we pondered next steps. Once we were satisfied that we'd considered every cost cutting option, our CFO created a new budget projection to guide us through the end of the year.
Pivot to Opportunity
As the pandemic continues, the companies must be flexible to navigate multiple challenges while searching for opportunities within the crisis. Businesses must pivot or become a statistic. As we sharpened our pencils on the financial side, we kept an eye out for emerging opportunities.
We found that the high unemployment rate boosted our recruiting efforts. We witnessed competitors who specialized in school districts, large event and nightclub security either go out of business or pause their advertising. A less competitive online arena gave us a marketing edge, so we reallocated some of our advertising dollars into targeted recruiting billboards and shuffled our Search Engine Optimization (SEO) to focus on our most profitable regions and services. In short, we focused on our strengths. The result was the phone ringing with more qualified leads.
In addition, competitors became short-staffed which caused operations problems. As a result, prospective clients had less options for security providers, so our sales and hourly rate increased. Client communication also improved because all parties were aware of the inherent new business disruptions associated with the pandemic.
We noticed employees were more grateful as they watched millions across America lose their jobs. This allowed us to revisit employee roles and responsibilities for maximum effectiveness. In the early stages of Covid-19, several employees decided to leave for personal reasons, including: caring for family elderly members, childcare challenges, early retirement and health concerns. This allowed us to reduce our salary expenses even further, and prompted us to reassign office space for better collaboration.
Over the last 6 months I learned that the security industry is bulletproof. We can take a direct economic hit and survive. Even in the worst case scenario, we're truly essential. Surfing the wave of 2020 is equal parts observation, planning, taking the long view and making friends with uncertainty.