Standard

February 21, 2022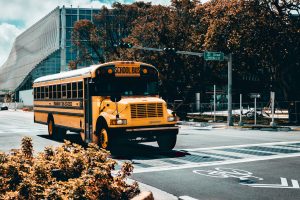 The school year is officially in full swing. With the back-to-school season underway, many students are boarding buses to get to and from their homes and school. It's imperative that the safety of these children be considered at all times when managing this transportation system. That means looking into new technology that protects passenger welfare.
Equip school buses with stop-arm cameras
Passing a stationary school bus is a dangerous and unlawful act. Minimizing these incidents and punishing offenders is essential to keep children safe.
A stop-arm camera is a camera placed on the outside of a bus that photographs passing motorists who violate stopped school buses' traffic laws. These cameras assist in the enforcement of state legislation by identifying unlawful passings of stopped vehicles.
With this footage, law enforcement officials can better identify and ticket offenders, thus punishing people who break the law and endanger children while deterring other drivers from committing the same offenses.
Integrate RFID and GPS capabilities into
Keeping track of where children and school buses are can also help keep children safe. RFID chips can be used to track the location of a bus and its passengers, as well as monitor things like fuel levels and engine status. This information is especially beneficial in emergency situations when knowing the whereabouts of every bus is crucial. GPS capabilities also help ensure that buses are on schedule and not lost. Both measures add an extra layer of security to transportation.
Minimize the spread of COVID-19 With Electronic Verified Inspection Reporting Systems
The continuing pandemic also puts children at risk. As the school year progresses, it's important to be aware of potential risks and take necessary precautions. On top of vaccinations, one way to help minimize the spread of the virus is through the combination of regular sanitization and electronic verified inspection reporting systems. EVIR solutions automate the process following sanitization procedures by recording which spaces are disinfected, when they are cleaned, and who cleans them. This technology also aids drivers in maintaining a cleaning schedule while adhering to CDC standards.
Protect Student Data
Student safety is of the utmost importance, but their data must also be protected. As school districts undergo technological advancements in order to keep students safe on buses, it's important that they also take measures to protect the privacy of these children. One way to do this is through the use of strong passwords and encryption software. These tools make sure that student data is only accessible to authorized personnel.
With these safety measures in place, school districts can feel confident that their students are well taken care of during their time on and off the bus. Implementing new technology advancements is just one part of creating a safe and secure transportation system. By working together, we can help keep our children safe this school year.