By: Stuart J. Visnov, Chief Executive Officer, Echelon Protection & Surveillance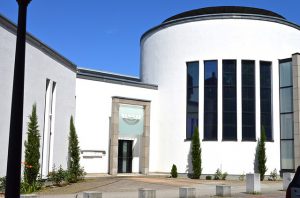 In the wake of the tragic attack on the Tree of Life Synagogue in October of this year, there has been an increased debate on the merit of installing armed security guards at Synagogues and other places of worship.
It is an unfortunate fact that acts of violence and hate crimes in places of worship are on the rise in this country, regardless of whether that place of worship is a church, a synagogue or a mosque. Yet unlike schools and other public institutions, religious organizations have been the slowest to adopt increased security measures.
For many, installing armed or unarmed security officers at religious institutions has become a serious consideration. Many worshippers would rather be slightly slowed down by increased security checks than have no professional security measures in place whatsoever. Others, however, feel that the presence of security guards may feel intimidating and threatening.
That being said, professionally trained security guards are one of the most effective ways that religious organizations can protect their congregation and minimize or prevent future attacks on their place of worship. Not only will highly trained professionals be able to respond to an attacker quickly and safely, the visual presence of security guards — even if they aren't armed — is often enough to deter would-be attackers because you are no longer viewed as an easy target.
These professional security guards don't have to be intimidating to worshippers, either. There are several steps that both professional security companies and religious leaders can take to make worshippers feel safe and secure during services. This can include dressing officers down so that they don't look intimidating. Religious leaders can also introduce officers to their congregation so that they know the people protecting them and stand with security officers at the entrance to the place of worship so that worshippers see a friendly face at the door.
Even if you aren't ready to commit to armed security officers, there are steps that every religious institution should take to maximize their security. For instance, installing a modern, comprehensive security camera and access control system can help to prevent vandalism, robbery and active shooters. Locking the doors while service is in progress may slow down or ward off would-be attackers. Having an evacuation plan, whether in the event of a fire or an active shooter, is also a must-have.
It is clear that however they feel about armed guards, every religious organization should educate themselves by having a discussion and security threat assessment with industry experts about how they can increase the level of security at their place of worship. The cost of security will understandably be a big factor for religious organizations, but this figure will depend on several factors such as the type and number of structures as well as the size of your congregation and the level of protection that you desire. What's more, a professional security company can help you build a custom security plan for your budget.
If you'd like to speak to a leading security provider in your area, call Echelon Protection & Surveillance at 610 831 0277 for your free consultation today.