By: Stuart J. Visnov, Chief Executive Officer, Echelon Protection & Surveillance
Word count: 802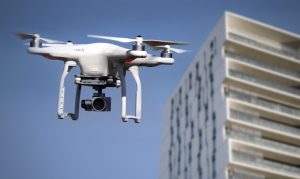 The inclusion of drones in security operations is becoming increasingly more common, and more necessary. Drones have many advantages over traditional security and reconnaissance methods. On their own, drones can be a very valuable security asset. When combined with other types of security and surveillance measures, a real powerhouse security plan can be created.
Drones have an advantage over traditional surveillance methods (i.e. helicopters and cameras) because they are:
Less expensive
Easier to operate
Quieter and not easily detected by those being surveilled
Able to access remote areas and transmit findings quickly
Able to operate in various weather conditions
Equipped with infrared and thermal sensors that allow for night vision
So, what are the ways in which drones can be used? There are three key areas where drones have made a significant impact on security and protection: Events and Crowd Control, Commercial Usage, and Everyday Security.
Events and Crowd Control
Whenever there is a large crowd, there is a concern for safety. Large venues that host concerts, conventions, EXPOs and sporting events are exciting, but they are also serious security risks. Appropriate measures need to be taken to ensure personal safety and the security of the entire venue against any kind of unwanted behavior, hazard, attack or unlawful incident. Drones can play a key role in making sure an event runs safely by observing any challenges before they grow out of control.
Before the event happens, drones can be deployed to conduct remote advance reconnaissance of the venue. Being able to get an aerial view of the entire complex, including surrounding infrastructure like roadways and parking lots, can give a security team the information needed to analyze and evaluate the situation and put together a complete plan to handle any issues that may occur.
On the day of the event, drones can be used to monitor traffic and parking. This can prevent major delays, and possibly accidents, as cars can be directed or re-directed to appropriate areas. Drones also can monitor foot traffic. High traffic areas often lead to pushing and shoving, which can lead to fights and stampedes or trampling.  Drones can help manage high pedestrian traffic areas and prevent congestion, averting tragic accidents.
Commercial Usage
Drones can keep businesses safer and more secure. They can monitor buildings, facilities, and properties in ways that were not possible in the past. Nothing replaces the on-site responsiveness of well-trained security guards and well-planned surveillance cameras, but drones can bring additional level of security.
Drones can conduct perimeter surveillance to protect a company from sabotage, theft, and vandalism. For instance, they can monitor building complexes for trespassers by covering areas out of a normal surveillance camera's sightline, or too remote or dangerous for vehicle or foot patrols. If a trespasser is observed on the property, they can be followed more safely because intruders are monitored from a safe distance before being apprehended, protecting security guards and police officers involved in the arrest. The oil and gas industry is a good example of an industry that has benefitted from drones as a way to protect their pipelines.
Port surveillance and shipping protection is another area where drones are important. Drones can monitor borders, ships, cargo, and the port itself. They can help send visual information when there is an accident and when search and rescue operations are needed, and they can also help in preventing piracy. While this may conjure up images of Blackbeard and Captain Jack Sparrow, the fact is that modern piracy is a real threat to the shipping industry, as is smuggling and illegal trafficking. Drones can follow ships, watching out for potential invaders. If a threat is found either at sea or at port, drones help authorities respond quickly, before a ship or cargo becomes vulnerable to theft or hijacking.
Agriculture and Farming rely on drones to protect their crops and their livestock. Drones can make routine trips over acres of land that otherwise may not have been easily guarded. Farmers can ensure their crops are healthy and haven't fallen prey to disease, theft, or sabotage. The same is true for their livestock. Drones can be equipped with thermal sensors and sniffers that detect predators, poachers, and hazardous gases. And since drones are quiet and unobtrusive, they can track animals without scaring them and track poachers without being heard.
Everyday Safety
Drones are great additions to public safety efforts. Authorities can use drones for various everyday needs such as:
Daily traffic reports
Locating missing persons
Security for parking lots and other open areas
Protection of parks and landmarks
Search and rescue missions after disasters
There is no question that drones are a valuable security resource. They are inexpensive and provide a unique perspective for authorities and they should be considered whenever an extensive outdoor security plan is being put into place.