When you require security to protect and secure your building and construction job site — it all starts with an onsite security assessment. Once the security contract has been signed, it's essential that your site manager meets with your security provider onsite to see the physical property and review specific duties and expectations.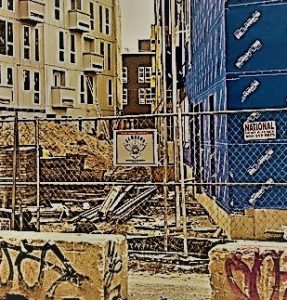 The right security partner will want to take the extra time to meet with you face-to-face to be sure the job is kicked off right. The majority of building and contracting stakeholders worry about securing their site from theft, fire, hazard, trespassing and vandalism. A little due diligence, communication, and preplanning saves time, effort and aggravation when your project is in full swing. Below are a few key security assessment strategies to consider in your initial walkthrough.
Share and Utilize Your Site Map
Start your assessment by sharing the site map and using it to mark areas of special interest and concern. Your security company can then digitally enhance the site map to use in the security directives they prepare for the actual guards who will be assigned to secure your site. A well-labeled, color-coded, site map should include as much detailed information as possible, such as lock codes, location of guard parking, entrances and exits, porta-potties, fire extinguishers, etc. Nothing replaces the clarity of a complete site map to familiarize guards with the site in the initial stages of the job.
Examine Perimeter Fencing for Gaps
Most job sites utilize chain-link panel perimeter fencing, rented from large national companies as an effective secure barrier around your construction site. Depending on the project location, stage of construction and site layout, managers can add barbed wire or a privacy/dust screens. As you walk through the job site, take note of fencing gaps, damage, or entire missing sections. If the fencing is not reliable, adjust your security plan to protect vulnerable areas with more patrols, deterrent signage, surveillance cameras and lighting. Understanding your site and environment, including the regional crime rate, seasonal climate, etc. should inform your security decisions.
Develop a Detailed Patrol Plan
Your site assessment is the perfect time to define security protocols. Protocols should including where your guards will patrol, and the locations of the scan tags which electronically verify their rounds and duties. Posting scan tags in areas of high-value assets or potential risk help guards stay on-point while on patrol by verifying the time and frequency. There are many excellent security officer reporting software applications that keep clients informed while also safeguarding against liability. Once your security protocols have been agreed upon, we suggest varying the guard patrol times and regularity so they're less predictable to anyone watching. Random patrol times keep bad actors guessing and help prevent guards from becoming complacent.
Your security patrol should include easy access to areas where high-value assets are stored. A comprehensive security patrol provides real value by taking note of any current and prospective problems on-site, such as damaged gates, shattered windows, broken lights and unlocked trailers. Security guards on patrol document everything in a daily digital report that is available to all stakeholders. Your final security protocols should incorporate a call-down list of property owners, site managers, local law enforcement, and fire hazard authorities.
Adapt Security for Each Phase of Construction 
From the first delivery of materials to project closeout and turnover, your security needs to adapt. The site assessment is the time to determine the areas to secure all tools, materials and heavy equipment. The signing in and out of tools takes a little longer, but is well worth the extra effort because it keeps gear from "walking away" and adds to the overall organization and safety of your job site. The access control of deliveries should also include a sign-in and sign-out process, as well as a designated secure spot for materials. In addition, heavy equipment should be corralled in a well-lit area and arranged in a way that limits damage by inhibiting movement. Capturing all these areas on the site map with your security provider helps them visualize the project and understand your expectations. Be sure to discuss insurance, use of force, guard supervision and daily reporting.
Since 2001, successful building & construction companies of all sizes have chosen Echelon Protection & Surveillance to keep their job site safe and secure from unwanted and illegal activity, including theft, fire, vandalism, trespassing and safety hazards that cause costly delays. Call 610-831-0277 or email sales@epsagents.com today for reliable, flexible and professional security guard services.