Standard

December 21, 2021
Construction site theft is one of the leading problems for contractors. This is why security should be part of the project planning to prevent losses and associated risks. But aside from locks, CCTV cameras, and ground personnel, contractors can also utilize the latest security technologies.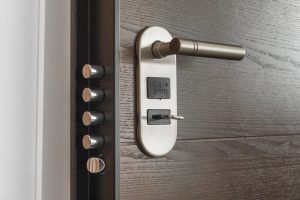 These latest innovations improve your site's security while helping you reduce costs in the long run. It will also yield substantial returns as part of the company's overall investment.
Here are some of the latest security technologies that suit construction projects:
Drone technology
CCTV coverage can be quite challenging for vast construction sites. Also, not all parts of the construction area can be reached with stationary cameras. This is where drone technology comes in.
Drones have been in use for many years. This technology played a significant role in military missions and the film-making industry. And as technology keeps innovating, drones can now be utilized for security purposes.
Contractors can operate CCTV drones in a pre-programmed path. The drone camera can also access specific areas that are not covered with traditional security technologies.
For example, if your security system detects a trespasser, a drone can be sent to inspect the area. This allows security personnel to respond fast and assess the intruder risk. It can also help identify or gather information about the intruder's appearance.
Building Information Modeling
Also known as BIM, Building Information Modeling allows site planners to evaluate the project in every phase. This will let them plan CCTV installation and deployment of security personnel as the project progresses.
This digital model serves as site planners' security map. It will save them from excessive maintenance and dead spots that intruders may use for theft.
Moreover, BIM can be scaled up or down based on the size of the project. It can also be used throughout the building process.
Cloud integration
Cloud technology isn't new, but it's been left untapped by many site planners. By integrating security systems into the cloud, everyone involved in the project can access CCTV footage, security database, and breach reports remotely.
In addition, cloud technology allows information sharing to assess security issues easily. It suits all construction projects across industries.
Moreover, cloud integration also allows project managers to limit who has access to the security features of the site. This is to prevent the 'inside jobs' of unscrupulous employees.
Artificial intelligence
Artificial intelligence or AI is a powerful way to bring burglars to justice. It can be integrated into drone CCTVs to identify the facial features of intruders. This reduces the need for human intervention while providing faster and accurate results.
Moreover, artificial intelligence will adapt to changing lighting, environment, and weather conditions. It's a scalable security solution that could be the ultimate solution to construction site theft.
Conclusion
Construction site security boosts occupational safety while cutting back losses due to theft. As burglars become advanced with their tactics, site planners shouldn't be left behind. The latest innovations in security technology provide them with additional tools to combat safety issues. Harnessing these new technologies can revolutionize construction site security in the future.