Standard

December 28, 2021
Multi-layered security is a network security method that employs numerous components to safeguard your construction site's activities with multiple levels of security. The security of your building site is critical to guarantee a smooth production process at all stages of the project. Implementing a multi-layered security plan can create the groundwork for a successful security strategy at a reasonable cost.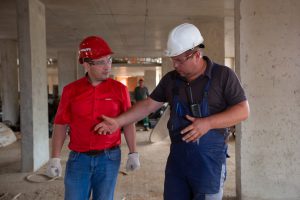 It is typical practice in several industries, such as industrial facilities, logistics, warehousing, and construction, to have multiple sites spread across several geographical regions, some of which will be unmanned and some of which will be isolated. In some circumstances, a building site may span a broad geographical area, necessitating a larger centralized security network.
In these situations, a multi-layered security approach is critical. Security networks may now be developed and changed to fit each construction site thanks to recent technological breakthroughs. A multi-layered method can include deploying an advanced system from one area to another, with everything reporting to a central station as needed.
 Perimeter protection via Intruder Detection
Intruder detection at the perimeter is the first 'layer' of good security. The goal is to spot invaders and deal with them before they obtain access. Every site's unique qualities should be addressed with custom solutions. Having an access control system as well as manned security guards, for example, can help detect intruders and stop prospective criminals from entering your building site.
Protection against false alarms
When a bespoke assembly of multiple solutions is brought together to sense, assess, and respond appropriately to security threats in the most effective way possible, with the fewest possible false alarms, construction site security is usually very effective.
A sophisticated intruder detection system, such as a highly controlled passive infrared detector, combined with CCTV cameras can substantially aid in areas where environmental elements such as straying wild animals or harsh weather conditions may be problematic in sending off false alerts. In this method, if the infrared detector detects unlawful entry, the CCTV can act as a secondary layer to determine whether the intruder is truly an intruder or just a false alarm. This results in less squandered time and money, making it a far more effective strategy.
Combinations with finesse
Intruder detection systems are integrated with recorders and audio and video transmitters so that when an intruder is detected, high-quality audio, picture, or video data are instantaneously broadcast to a smartphone or a distant monitoring center, allowing operators to rapidly determine how to respond. For added security, police response alarms can be combined with intrusion detectors and real-time video links. Because of the degree and flexibility of these systems, there are a lot of possibilities and room for developing a solution that can provide the ultimate level of security.
Some operators of many remote sites may want to be able to interact efficiently with onsite staff in addition to monitoring. Operators can use a central management system to efficiently control many levels of communication and protection, including intrusion detection, in such instances. It's critical to have multiple layers of protection on your construction site to reduce the risk of theft, trespassing, and putting the public at risk.