By: Stuart J. Visnov, CEO, Echelon Protection & Surveillance
Word count: 1090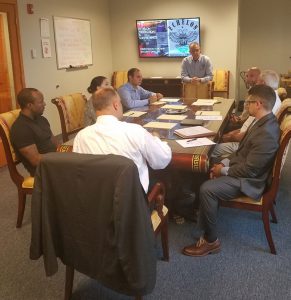 If you were in need of full-time or part-time workers — the last few years have been a recruiting nightmare. First, there were no workers. Then, there were too many. Then, the pandemic curveball changed everything again.
According to the latest Labor Department data, nearly 59% of the United States workforce are now paid on an hourly basis. Out of those 78 million American hourly workers, 70% are under 30 years old, 8% are in their 40s, and another 8% are in their 50s and 60s.
One of the main recruiting challenges for employers is that the average annual turnover rate for hourly workers is at least 49%. Of course, some industries have better retention rates than others based on factors like employee satisfaction and the economy. In addition, the growth of the "gig economy" (a popular term used for companies like Uber, DoorDash, Gopuff, and Instacart that hire freelance hourly workers) has made it even more competitive to recruit hourly workers. About 57 million Americans have found work in the gig economy, which is almost one-third of the entire working population. These hiring complexities don't even include the pandemic ramifications, which cannot be fully assessed yet.
Below are several issues that have impacted security guard recruiting efforts.
Nearly 100,000 businesses that shuttered due to the pandemic are now out of business
Many part-time security officers are afraid to return to work for fear of exposure to Covid-19
Some security guards make more collecting unemployment and stimulus checks
Parents and employers must accommodate daycare and virtual learning schedules
Unarmed and armed security guards are concerned about violent civil unrest
Many untraditional candidates are now applying for security jobs
After several years of struggling to recruit security guards because of record low unemployment, the whiplash of record unemployment, plus the uncertainty of the pandemic, has forced progressive security companies to re-think their entire process.
Here's how we rebooted our recruiting strategy over the past year.
ASSIGN A RECRUITING TEAM
We assembled a recruiting team led by our HR Director, responsible for all research, daily process, reports, interviews, training, orientation, monthly meetings and weekly reports. We understood the entire economy was changing due to the pandemic and made recruiting our priority. We couldn't afford to miss any recruiting opportunities because that would affect our ability to service our remaining clients as well as any new business we were lucky enough to acquire.
RESEARCH & STRATEGY
Our team began to explore new recruiting ideas and technology, including new job boards and platforms. Our challenge was to reach a wider demographic of potential security guard candidates who all used media differently. We kept in mind that the pandemic and resulting economic downturn also was creating a prospective new group of skilled workers who had recently become unemployed. Informed by national research, we discussed ideas, assigned tasks, and began to execute our plan. We used a classic overall marketing strategy.
Test new recruiting ideas (observe data and look for insights)
Measure all results (adjust messaging and process as needed)
Repeat successes (don't double-down on ideas that didn't yield results)
UPDATING JOB ADS
We started by updating our current security guard job ads by highlighting the issues that are most important to hourly workers, according to national recruiting research. As you rewrite your recruiting ads, remember the classic advertising adage WIFM — "what's in it for me." Meaning, the main thing your candidate audience is thinking is, how do I benefit from this information.
Examples of how we improved our recruiting ads to increase response.
$15.00 starting pay rate – Highest industry starting rate!
Healthcare & PTO benefits – You're eligible if you work FT / 32 hours per week
Work close to home – No long commutes or big vehicle expenses
Flexible days & hours – Choice of job schedule
Start work immediately – Get paid in 10 days
Work nights and/or weekends – Keep your days free
No experience necessary – We train you
On the job experience – Build your industry resume
Clear path to advancement – Grow with our company
Make your own luck – Reinvent yourself
SWITCH JOB BOARDS TO INCREASE RESPONSE
After reviewing and demoing several job boards we switched from the underperforming Indeed to Betterteam. It was less expensive and yielded 7 X the response rate. We went from about 100 resumes per month to over 700 in the first month!
INTRODUCED VIDEO INTERVIEWS FOR EFFICIENCY
Once we created a pipeline of weekly resumes, we needed an efficient way to evaluate applicants quickly and safely. The obvious choice was video interviews. After testing several new video platforms, we settled on myinterview, which enables us to invite best applicants to take a prerecorded video interview where they answer 5-10 basic questions. Additionally, we developed a 1-minute introduction video in which our CEO personally encourages applicants to take their video interview. The platform created many recruiting organizational efficiencies while being applicant friendly.
MEDIA SUPPORT
We negotiated a 75% discount with a billboard company that ran for 3 months on a major highway near our main office. The billboard was designed to work hard by echoing our recruiting messaging. In addition, we updated our website's Careers Page and reposted recruiting ads on social media like Facebook, Instagram, and LinkedIn. Most companies stop advertising during times of economic uncertainty. However, smart businesspeople know this is the time that ad rates are lower and the market is less competitive.
JANUARY 2021 RESULTS AND ASSESSMENT
781 resume applicants
204 candidates were invited to take video interviews
25 video interviews were completed
10 face-to-face interviews were scheduled
5 new security guards were hired!
Our resume response was 7 X our old monthly average. This allowed us to invite many more applicants to take our video interview. Based on how many people actually took the video interview, we decided to try to increase our interviewee numbers by adding a short personal video from our CEO encouraging them to "take the next step." We will measure the impact of the video on our interview response numbers and adjust the message as necessary. If we're able to get more applicants to take the video interview, that will in-turn increase our face-to-face interviews, and ultimately the final number of security guards hired each month. To date, we're pleased with our monthly hiring average, but believe we can do better. We've also noticed that our new recruiting efforts have yielded a higher caliber of security guard officer in terms of professionalism and reliability.