When you own a business, the first thing you need is, of course, to protect it. Knowing how to protect your business, along with your employees and equipment, can ensure that your business will grow. Hence, it is necessary to take construction security very seriously.
Yes, there would be risks involved. After all, each construction site will have its own problems. However, I am sure that you will agree with me when I say that there are some practices that can lessen construction site hazards.
General Safety Measures for a Construction Site
Below, I have listed a number of tips to implement a better construction security. This way, you can plan better, and eventually, develop a construction security plan that perfectly fits your specific business:
Start with writing a security policy for the construction site. Make sure to put it on paper and everyone involved has a copy.
As I have said early, each construction site will encounter specific risks. You have to identify these unique threats in order to formulate an effective construction site security plan.
In any business, there should be a hierarchy to follow. You should assign certain people to supervise the site. Appoint someone reliable for the organizational security responsibilities.
Just because you have assigned an administrative security personnel, it does not mean that other employees will not do their part. There should be security awareness from the top to the bottom.
Coordinate with the local police and fire departments before starting a construction. Moreover, get in touch with the businesses located in your property. Inform them to report if they noticed anything suspicious on the construction site.
Encourage all your workers to report theft and vandalism immediately, and they have to report all the losses to the police.
Lastly, you should always keep a log of all security records. Whether minor or major incidents, there should be a record of it.
Need Help with Your Security Plan?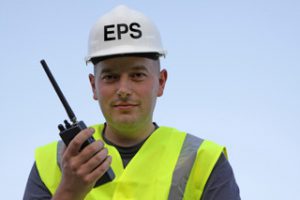 At Echelon, we provide solutions to your problems. Echelon Protection & Surveillance is dedicated to secure your business. We understand that each business is unique so we will formulate a specific construction security plan that fits your needs.
Echelon Protection & Surveillance can guarantee highly-trained guards because we are members of the Associated Builders and Contractors, Building Owners & Managers Association, and many more.
Before implementing a security plan, Echelon Protection & Surveillance will conduct an on-site inspection of the site. A preliminary site evaluation is a crucial step for us to develop a comprehensive and robust security plan.
Once we have identified the key points, we can discuss with you a detailed security plan based on our initial observation. If you want a price quote, please do not hesitate to call 1-610-831-0277 or email us at sales@epsagents.com. You can also get in touch using the contact form on our website.