Keeping Records and Documentation
As a volunteer fire fighter for over 45 years, I wanted to share my fire watch experience to benefit other business owners like me. So, when I founded Echelon Protection & Surveillance in 2001, I personally developed all of our fire watch procedures.
Although the law varies by state, a fire watch should be performed by a trained fire safety officer with at least a few of the following credentials: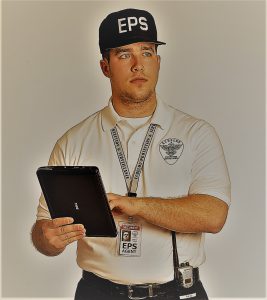 Basic fire prevention training by the security company
Fire safety school classes with training in occupant and fire department notification
Congressional Fire Services Institute (CFSI) classes
At least 1 year of experience as a fire fighter, regional fire police or similar experience
As I said in my previous blog, after the property owner or building manager has vetted and scheduled the fire watch, it's all up to the security company. They are responsible for making sure thefire watch officers have their directives and know exactly what's expected from a documentation and reporting perspective. Ultimately, the goal is to protect the property, people and surrounding area from fire, hazard and liability.
An Effective Fire Watch Means Careful Record Keeping
All fire watch officers are responsible for record keeping that documents all patrols and activity. The records may be digital or written in an old school log book. The fire watch officer on duty must report any risky or hazardous conditions to the security supervisor, building owner, and Fire Marshal so they're fully informed at all times. In most cases, the fire watch report must be sent to the Fire Marshall's office at the end of each day. Up-to-the-minute security companies will have the ability to monitor fire watch officer patrols via GPS technology in real time. It is also possible to set up temporary scan tags at each patrol stop that work in tandem with the officer's smart phone to verify fire watch tours in real time. Temporary camera surveillance is also an option so officers can view multiple areas of the property right from their smart phone. Echelon uses aApp called Officer Reports that combines GPS sign-in/sign-out, patrol scan tags, and fire watch reporting capabilities with photos all in one place. Below is a check list of the bare minimum record keeping that should be required:
Property address, owner and all related contact information
Date and time of each patrol with a detailed patrol report
Name of the security company and a copy of their license and certificate of insurance
Names of all security personnel conducting the fire watch
Documentation of all communications with all stakeholders, including the fire department, property manager and general contractor
It's Not Just About Fire
Keep in mind that a fire watch is not exclusively about fire. To get the most value from your fire watch detail – your security officer's protocols should be comprehensive and take a wholistic approach to the overall security, safety, protection and well-being of your property and people. This means the security guard should be vigilant at all times — looking for any type of illegal or unwanted activity such as hazard, vandalism, emergency or theft. This includes awareness of any unusual activity at adjacent structures or lots that could affect your property.
Echelon uses real world experience and the latest technology to document activities and keep records in order to guarantee an effective, professional fire watch. Build a relationship with a reliable fire watch security services company — Contact Echelon Protection & Surveillance to guide you through your next fire watch. Call 610-831-0277 or email sales@epsagents.com.